'This is the film made in every country in the world' - 'One Day on Earth', the film that stars humanity, begins with this introduction. Made in over a 100 countries on 10.10.10 (October 10, 2010) in one day, the documentary was made with contributions by documentary film-makers, students, non-profits, and amateurs across the world. They filmed human experiences within a 24 hour time frame in their countries, and the total contribution amounted up to 3000 hours worth of footage.
The idea for the project was conceived by Project Founder Kyle Ruddick as he watched musicians from different regions of the world collaborate on stage at the opening night of the 2008 World Festival of Sacred Music. After several initial attempts to create music together, the artists who had never worked with each other before finally found a common platform and disharmony became harmony; a beautiful fusion of music coming together. That moment inspired a vision for a visual form of communication-cinema. Together with Executive Producer Brandon Litman, Kyle launched 'One Day on Earth', sending out a global appeal for cinematic contribution-with one condition. They must all be filmed in the space of 24 hours, on 10.10.10.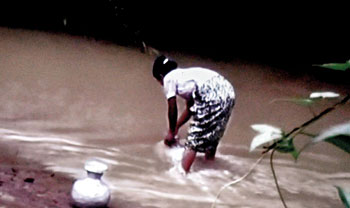 The film was simultaneously screened across the globe in over a 100 countries on the April 22 -Earth Day. In Sri Lanka the screening for 50 odd young change makers was facilitated by the Youth for Greener Sri Lanka platform, who hosted a workshop on social media for sustainability as well on the day.
The film opens with a scene of a young boy on a boat for whom happy birthday is being sung. Vincent is 10 years old today; he was born with a life expectancy of 10 years. The film chronicles many like him, who outlive their life expectation on the date. Nina from France is on her way to meet her mother and 'a day full of joy'. Lete from Nigeria is battling against her parents' wishes of marrying her off so she could study. The documentary whizzes through so many countries your head is almost a blur. Countless stories are told, but you remember all of them, because they're each very important in their own way.
Did you know that 130, 000 couples were married on 10.10.10? That 154 000 died? That 8 million species were living on Earth? 4 trillion dollars were in circulation that day, over 35 million tons of waste were produced, and the average person had over 60 000 ideas. The beauty of Earth, where no one person is the same and change is a constant given.
Sri Lanka also made its own contribution. UNDP staff filmed a community bio gas unit in Galle. With more than 100 bio gas installations in place, the people of Galle were becoming more confident in bio gas and its ability to provide enough gas to sustain their domestic needs. While contributing to the decrease of gas usage, the initiative helped ease the solid waste problem in the city. The project had also had a special impact on women in the community, who have become invaluable contributors to the local economies by running these bio-gas units through small community organizations. A success story of how various actors can work together to achieve positive change, the people behind the camera felt it resonated with the cause of One Day on Earth.
'The beauty in life is seeing things. For life to be beautiful, you must perceive it as beautiful. When you fail to see the beauty in life-when you see just the evil-then you have died.'
This is one of those movies that can only be described as beautiful. Each second of cinematic footage can move you to appreciate life for what it is, make the best out of every second, and act to make the world a better place. As the Dalai Lama says at one point "I pray. But I also know that praying won't bring about peace. For peace, for anything that you want, what's important is action."
Visit www.onedayonearth.org for more information. The DVD could be obtained from the United Nations Information Center (UNIC).