More money from Sri Lanka's South is still moving up North since deposits in the North-East are lower than the loans obtained from this part of the country that is awakening post war, a leading banker said this week.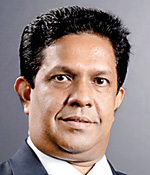 Aravinda Perera
"We are lending more than the deposits," in this regard, "we are effectively taking money from the South to the North and East," Sampath Bank Managing Director Aravinda Perera said during an interview with the Business Times. The bank is celebrating 25 years with commemorations and felicitations of its customers, shareholders and founder directors. Among future plans are to establish a merchant bank and an insurance subsidiary for which discussions are underway, he said
The bank opened over 30 branches in the North and East after the war ended prior to which they had only two in Vavuniya and Trincomalee. He noted that Jaffna started making money in the seventh month after opening its branch there. Sampath Bank, which ony had just 100 branches four years back has doubled in the past four years to 209 and have grown from an employee base of 100 to 3,250, Mr. Perera said. The bank's deposit base has grown to Rs.188 billion, the bank states.
The bank commenced by introducing and then becoming a leader in technical innovations with a fully computerized banking system that was open till 3.00 pm when others at the time back in 1987 closed at 1.00 pm, he explained. With over 17,000 shareholders, the bank boasts of this large base and was the first to come up with a share bonus in 2010, he said. "We did not try to set standards by looking at what's available but at the available infrastructure and found that it is possible to provide real time integrated online banking systems," the MD said. Increased customer convenience would be expanded upon, with not simply tall structures but a number of banking service points in the same place for added convenience, it was pointed out. Sampath Bank was the first to introduce to the Sri Lankan market the SET or Sampath Electronic Teller card, which became a trend and caught up well with most people requesting for a SET card from other banks as well, Mr. Perera said.
However, the bank has continued to live with the traditional values of the country and this is significant in their attire and friendly service. In keeping with advanced banking operations, they would in the future increase the number of services provided through mobile phone banking in the future, he said. Attractive accounts are offered for senior citizens to encourage increased deposits, he said, adding that their customer base is now at approximately Rs.160 billion. However, key challenges were found in competition level as most banks now offer similar products and service levels. In terms of technical innovations he observed that it was commendable that today while they had reached the third place after the two largest private banks in the country, the state banks have come a long way.
He pointed out that they had a rapid staff recruitment drive with 1000 taken onboard but it was pointed out that it would take time to prepare them to be professionally qualified and with good customer service standards. Over 200 have left to obtain jobs in the Middle East, he said. Regulatory challenges were observed to have brought about a complete change in the way the bank does business, he said adding they were required to keep a check on cheques for anti money laundering and anti-terrorist financing.
Commenting on the economy, he said some disciple was brought in and it has brought down overheating of the economy.