Epic Lanka recently conducted a comprehensive technical training programme for a group of bankers and engineers from BSN Bank of Malaysia and CDI at the Epic Techno-Village in Battaramulla.
"Having successfully implemented a branchless banker solution that enabled Malaysia's biggest savings bank to deploy thousands of field officers to offer on-line real time banking through hand carried mobile devices, Epic now facilitates high level technical training to the support staff," the company said in a statement.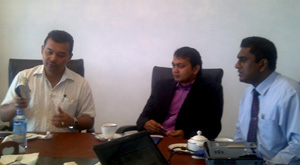 Pic shows Zamri Omar, Vice President – Branchless Banking of BSN Bank showing the bio metric security application of the fully fledged Epic Branchless Banker device to foreign participants at Epic Techno-Village. Nornekman Abdul Razak, Managing Director of CD Integrated Sdn Bhd and Viraj Mudalige, Director/GM of Epic Lanka look on.
"The branchless banker (solution) we implemented at BSN includes some of the latest and most comprehensive security features such as biometric verifications of clients on the field. This has enabled the biggest savings bank in Malaysia owned by the state to operate these branches at 100% security and fool-proof. In fact, our solution was first studied by Bank Negara, the Central Bank of Malaysia and with their approval only we implemented the solution," noted Viraj Mudalige, Director/GM of Epic Lanka.
Evolving from the award winning Epic mobile banking solution that was adjudged as the best banking solution in Asia Pacific at APICTA, Epic Lanka says it has been introducing innovative 'branchless' banking solutions to meet the specific needs of banks, market segments, regulatory authorities and technology infrastructures of different countries.
"In-house competencies built over a decade in complementary domains of secure electronic payments and information systems security gives us the edge in coming up with world class and state of the art solutions," Mr Mudalige added.