The rise in prices of imported items including textiles, that of fuel and the additional electricity charges are forcing people to curtail their spending for the forthcoming new year celebrations. With the Rupee depreciating against the USDollar and other currencies, import bills are costing more and consequently, pushing up prices of imported toys, food items and gifts.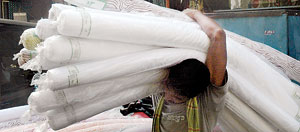 Imported textiles being loaded at Keyzer Street: But will there be a demand this year?
Priya Ranjith, a father of two from Wattala, said that they have to cut down on expenses, to adjust to the new prices. "We decided against going on trips, because that is too costly this time, and we are not going to purchase firecrackers this year either," he said.
The fuel price hike is adding to the problems of the transport sector, including the three-wheeler drivers.
"We get less hires these days, unlike last year. In the past, we earned around Rs 1,500 per day, but now, we hardly earn Rs 1,000. This is very hard on us," said N. Balakumaran, owner of a three-wheeler. He added that most people opt out of a three-wheeler when they hear the charge.
P.M.D. Hemamali, a mother of two, also said that, this year, the prices have gone up drastically and that, it is hard for them to even think of celebrating the new year. "We haven't even bought any clothes yet. When we hear of the prices, we would rather not buy anything. Times are really hard for us," she said.
However, the hike in the price of chillie and other spices isn't that drastic. "It has gone up by only a few rupees. People still come to buy from us and don't really complain about it, as much as they do for clothes," said Gnanam, manager of a spice shop.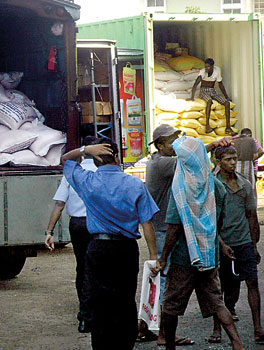 With the festive season fast approaching essential food items being loaded from lorries in Pettah: Pix by Saman Kariyawasam
M. Suresh, manager of Lithumethas Textiles, said that, since the dollar went up, there is less business. "
With the money they paid for 10 metres of cloth, now people can purchase only three metres. Also, the money spent for three shirts earlier, would now suffice for only one. This is a serious issue, and it affects both customer and seller badly," he said.
He also said that, for this year's festive season, the number of people coming to buy clothes from them has whittled down to a trickle.
"The situation is gradually changing for the worse. It is not a good sign for us," he said.
P. Malkanthi, who has come shopping for clothes for the new year, said that she was devastated when she heard the prices of clothes now.
"We came to shop for our relatives as well, because for the new year, we usually gift clothes to them, but this year, we wont be able to buy anything at all. The prices of food items are itself high," she said, adding that they won't go on trips with the family this year, because the fuel price is also prohibitively high.