The widespread use of CFL bulbs in the country is increasing. The bulb is also being widely promoted as a means of lowering light bills. However there is a downside to the use of this bulb, if correct procedures in its disposal are not followed.
A lack of public awareness and the absence of an organized system to collect used CFL bulbs could pose a health hazard in the future. If CFL bulbs are not disposed off correctly it can harm the environment since they contain minute particles of mercury, a toxic metal that is hazardous.
While the mercury content in a single CFL bulb may be insignificant, the combined effect of millions of them being improperly disposed island-wide could cause considerable damage to the environment.
"A proper mechanism to collect used CFL bulbs is necessary since direct disposal of CFLs can harm the environment.
A mechanism to encourage customers to return used CFL bulbs when purchasing new ones needs to be encouraged, eg. if a customer returns a used CFL bulb when purchasing a fresh one, a discount could be offered to that customer.
"There is only one company in Sri Lanka which practises this method" Mr. Ashoka Gunawardena, programme co-ordinator of Energy Forum and popular environmentalist said. Mr. Samantha Gunasekara, Head of the Biodiversity Protection Unit at the Customs said the improper disposal of CFL bulbs was caused due to a lack of public awareness on the issue..
He added collection centres were not located at convenient places and people were either unaware of where the centres were located or reluctant to take the trouble to go in search of these collection centres to dispose of the bulbs.
He emphasized the need for conveniently located collection centres as well as the need for incentives offered to those returning used bulbs. Mr. Charitha Herath, Chairman of the Central Environmental Authority (CEA) said the CEA supported one company involved in collection of used CFL bulbs.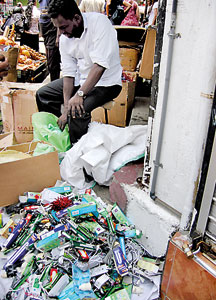 CFL bulbs on sale in Pettah. Pic by Athula Devapriya
He added the CEA had held discussions with CFL bulb importers to make them aware of the responsibility they bore re the recycling of these bulbs as well in the collection and re-cycling process.
Mr. Herath said proper disposal of CFL bulbs is vitally essential to avoid health issues caused due to toxic metal and it should be the common responsibility of all citizens to look into the proper disposal of CFLs to create a better and a greener environment.
Mr. Anil Ranasinghe --business development manager of the private company currently engaged in the collecting the used CFL bulbs-- said his company had taken the initiative by setting up South Asia's first ever CFL and fluorescent bulb recycling plant at Pitipana in Homagama.
"This plant has the capacity to recycle 3 million bulbs per annum --this is nearly three times more than Sri Lanka's annual CFL usage. "The bulb is first dismantled and cleaned of mercury within a completely sealed machine. The glass is then re-used in glass production and the plastic parts re-used in the plastic industry. The process is completely environmentally friendly" Mr. Ranasinghe said.
CFL bulbs last 15 times longer and use 4 times less energy than incandescent lamps. they also help reduce electricity bills while contributing towards the protection of the environment. The use of one CFL bulb helps reduce (half a ton) carbon dioxide (CO2) in the atmosphere.