The Government yesterday dissociated itself from a campaign launched to boycott the use of US products in Sri Lanka. Acting Media Minister and government spokesman Lakshman Yapa said the government did not encourage the campaign which had been launched against US products.
"This is not the government policy and we are not involved in the campaign which is on", he said.
A group calling itself Mavubima Surakimu (Protect the Nation) continued a street campaign yesterday calling on consumers to refrain from using US products including wheat flour.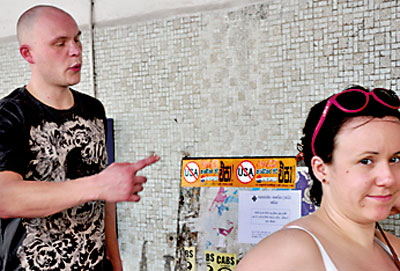 A foreigner points to a sticker calling for the boycott. Pic by M. Weerasekera
Dr Gunadasa Amarasekara who is among those spearheading the campaign said they would carry out a house-to-house campaign on the issue. "Our aim to create anti-American sentiment. We may not succeed in a short period, but in the years to come we will succeed", he said. On Friday activists of the movement distributed handbills and stickers with slogans calling for the boycott of US products. They went from shop to shop in the Pettah asking them not to sell US products.
But, there was no immediate response from shop keepers. The campaign came as a US backed resolution against Sri Lanka was passed at the United Nations Human Rights Council (UNHRC) sessions in Geneva on Thursday.
Meanwhile Minister Yapa said that if any of the groups try to disturb the operations of multinational companies the government would provide the necessary security.
A spokesman for the US embassy in Colombo responding to the campaign to boycott American products said, "The US is pleased that the next round of the US-Sri Lanka Trade and Investment Framework Agreement (TIFA) talks will open in Colombo this week. This is an indication that both the US and the government of Sri Lanka understand that the important bilateral trade relationship must continue to grow for the benefit of consumers and businesses in both countries'.