Two Ukrainians arrested this week are believed to be part of a major international credit card scam, using forged credit cards in Sri Lanka to draw out cash, CID investigations reveal.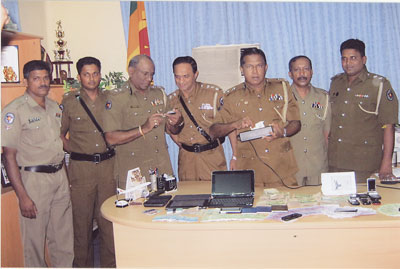 The Negombo police team that carried out the raid along with the items they found in posession of the Ukrainians. Pic by W. Hubert Fernando
The visitors had allegedly withdrawn more than Rs. 10 million from local banks, using credit cards, before they were arrested last Wednesday at a hotel in Ethukala, Negombo. They were due to fly back to the Ukraine the same day.
Investigations revealed that the suspects withdrew local currency and changed the notes into Euros to be smuggled out of the country. They had carried out similar operations on four occasions in the last 12 months.
When the men were arrested, they had in their possession 55,600 Euros and Rs. 1.1 million in cash, 106 forged credit cards, seven mobile phones, two laptops, and data-transferring equipment.
Chief Inspector Gamini Halawala, OIC of the Negombo Police, told the Sunday Times that the Ukranians arrived in the country on March 13 and rented a car. They had travelled to Badulla, Bandarawela, Trincomalee and Kandy where they had withdrawn money from ATM machines. The money was later changed into Euros at money exchange centres. The data used belonged to overseas-based persons. The two visitors have been remanded.