The Sampath Bank celebrating 25 years brought US$ 62.5 million or Rs. 7 billion which they raised through a syndicated loan into their coffers this week, officials said. "We brought in the monies on Tuesday, and now we're liquid," Aravinda Perera, the bank's Managing Director told the Business Times, adding that this Rs. 7 billion will help Sampath grow its assets by 23% this year.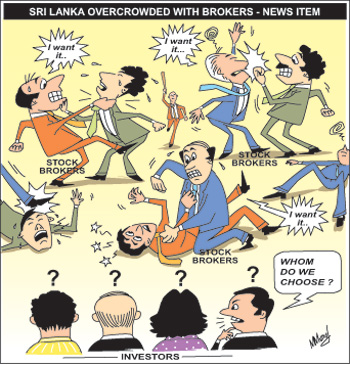 "It's a 1-year loan," he added, saying that Sampath had wanted only US$ 30 million, but there was an oversubscription of US$ 63.5 million. He insisted that the bank won't increase their deposit rates to be competitive with the other banks. "This is because we're liquid," he added. He said that Sampath will raise its Tier II Capital both locally and foreign through debentures.
Mr. Perera noted that during the last three years, Sampath's loan growth has been higher than its deposit growth. Responding to a query on where the deposit rates are heading, he noted that largely depends on the credit growth in the country. "Loans won't grow at the same rate this year, whether or not there're Central Bank restrictions," he noted. He added that with the rising interest rates, banks will be more mindful of their Non Performing Loans (NPL). He also added that deposit mobilization remains highly challenging, as the growth in the economy's deposit base is lagging behind the current rapid growth in demand for credit. On recent reports that Sampath has outdone some industry stalwarts in the credit card business, Mr. Perera said, "We're arguably Number 2 in the credit card business," adding that this business is in its growth mode.
He added that Sampath is studying the pros and cons of going abroad. "We're studying how profitable it is against the capital requirements," he added. He said Sampath's investment in Lanka Bangla Finance (LBF) in Bangladesh will not be divested mainly due to the Bangladeshi regulatory requirement which stipulates that significant shareholders of any stock market investment shouldn't sell. "This is also not the best time to sell and they (LBF) are going for rights issue soon" he added.
Sampath's pre-tax profit of Rs 5.5 billion last year reflected an increase of Rs 1 billion or 23.9% over the pre-tax profit of Rs.4.5 billion for 2010. The post-tax profit of the bank recorded a growth of 15.6 % over the last year. Mr. Perera added that the key challenges faced by the bank included the narrowing of Net Interest Margin from 5% in 2010 to 4.13% in 2011 and the mark to market losses on its trading portfolio held, which amounted to Rs.189.6 million in 2011, as against the net gain of Rs.333 million in 2010 and the significant increase of 25.5 % in operating expenses.