Sri Lanka's Treasury which has maintained secrecy on the country's financial affairs as a long standing practice suddenly opens its eyes this week to disseminate information on the economic situation among the public through media providing an opportunity for journalists to gather news from top officials.
Treasury Secretary Dr. P. B. Jayasundera, the government's top bureaucrat who normally evades journalists due to pressure of work at the hot seat, has come up with a media plan to inform the public on the current economic situation in the country by announcing that he would meet the media once in every two months.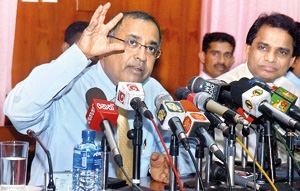 Picture shows Treasury Secretary Dr. P.B. Jayasundera flanked by top officials including Dr. B.M.S. Batagoda. Director General- Department of National Planning (right). Pic by Nilan Maligaspe
The aim is to provide first-hand information on the economy for journalists preventing them from highlighting facts gathered from other, reliable sources, Dr. Jayasundera told a fully packed audience of media personnel including business editors and financial journalists at the Finance Ministry Auditorium in Colombo on Thursday.
He said that this media plan put forward by the Director General Administration of the Finance Ministry has been accepted as it is necessary to disseminate correct information on the economic situation and the official view point directly affecting the people.
He noted that all designated top officials in the Treasury will be available to provide information and to clarify any news of the ministry. "I had no time to talk to the press and to give interviews for journalists or answer their phone calls due to heavy work load. Now you can contact any of the designated senior officers of the Treasury so that news can be verified," he promised.
He said that he could not entertain personal or telephone interviews as they take enormous time adding that this type of meeting the media would be a regular feature and the Treasury would provide all the 'official' information directly to the media and also discuss the issues with them.
He said that 'meeting the media' was launched to prevent journalists obtaining information indirectly and presenting them to the public. In answer to a query by a journalist as to the response of Dr Jayasundera on the issue of Minister Wimal Weerawansa asking the country to boycott US products to protest against the Geneva Resolution on War Crimes by the US, Dr Jayasundera played down it 'very cool' saying that politicians would be involved in this type of activities to create public opinion, but the Treasury "has nothing to do with it". He said "Before I speak about Geneva Resolution, I must know what the Resolution is. However he noted that most of the countries that were in favour of the resolution are doing trade with Sri Lanka, and they will not stop their transactions as a result of this resolution.
Responding to a question on possible US sanctions on Sri Lanka following the Geneva resolution, he said that no decision can be taken until and if sanctions were imposed and the specifics were known. But he said that "If it is imposed on us we should face it. We survived the tsunami. We survived the removal of GSP + concessions by the EU. We should learn to adjust and move on," Dr. Jayasundera said.
Referring to borrowings, he said that there was nothing wrong in doing it as long as it is serviced properly. He added that he has also obtained housing and car loans, etc and even uses a credit card. "You must know how to manage your economy cutting down expenses and the country's economy is managed in a similar manner," he added.