Titan Fleet Management, France a specialist yacht management company, recently sent its super luxury yacht Lauren L. for repairs to the Colombo Dockyard in Colombo. This seven star category 90 meter long yacht called in Colombo Under the 10 year class survey repairs coupled with hull surface preparation and coating to meet a yacht finish.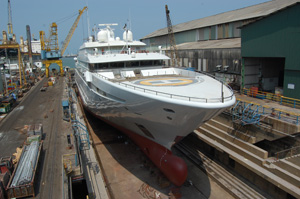 Picture shows the Lauren L accommodated in Colombo Dockyard's Dock No. 03 during its major lay-up repair call.
Colombo Dockyard said in a media statement that it was selected after a few rounds of negotiations and a site visit by Nick Sevier, Fleet Manager from Titan Fleet Management and Duncan McGregor, Refit -Repair/ Project Management Consultant from of Eclipse Marine, Thailand to ascertain yards capability to handle the project.
The vessel arrived in the yard on January 31 and shifted into dry docks for the repair which was handled on schedule within 40 days. On completion the Lauren L sailed to her next charter starting point in Seychelles. "The owners were pleasantly surprised with the excellent facilities at their disposal coupled with the quality workmanship, professional approach to meet the owners requirements were highly appreciated," Colombo Dockyard said.
High net-worth luxury yacht repair sector prospects look promising, with many of the yacht operators terminating their cruises close to Maldives in the Indian Ocean, reverting to repair- maintenance soon after a charter, it said.