Sri Lanka has a lot of potential, as good as the Maldives, to attract dozens of Chinese travellers but a group of top, visiting travel agents says much needs to be done before this could be achieved.
China is the Maldives' biggest source market with nearly 200,000 tourists in 2011, against just 41,500 in 2008 compared to Sri Lanka which attracted only 16,000 last year with half of them being workers.
"The travel industry (on both sides) did a lot of promotion of the Maldives and in just 2-3 years it increased by over 100,000 visitors. The same can happen in Sri Lanka if there is a coordinated promotional effort," said Sketic (one name) from Shenzhen Shenhua International Travel Service. Sword Lai, Vacations Division Product Manager at China International Travel Service Shenzhen Co Ltd among China's top three travel agencies, told the Business Times that while Sri Lanka has some fantastic offerings and is 'such a compact destination', the key is communications.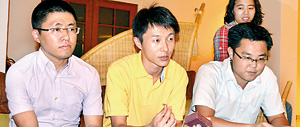 (L to R) Sketic, Trigger and Sword Lai. Pic by Hasitha Kulasekera
"There should be Chinese-speaking guides and staff in hotels should also have some knowledge (of the language)," he said, adding that Chinese travellers prefer destinations where they can communicate in their own language.
The third official, Trigger (one name) also from a reputed travel agency, echoed the same views of the other two adding that the beauty of Sri Lanka was reflected in the tea country, beaches, resorts and the historic sites. The trio, hosted by Colombo-based Viluxor Holidays founded by Shafraz Fazley - Managing Director - a new entrant to the Sri Lanka leisure industry but having an established practice in the Maldives where it accounts for about 30% of the Chinese market - travelled across the country during their 3-day visit.
The trip took them to Negombo, Sigiriya, Dambulla, Nuwara Eliya, Yala and the coastline to Colombo from Hambantota. Mr Lai said one location which would attract the Chinese is Sigiriya which is steeped in history and a wonderful place to visit.
Mr Sketic said there was a need for a lot of promotion from Sri Lankan authorities too. "Sri Lanka needs to do a lot more promotion as the Chinese know little about this country except maybe black tea and elephants," he said adding that travel brochures should also be available in the Chinese language similar to French, German and English and also in hotels and other sites of interest.
China is the world's biggest outbound market and many countries, including the US, are eyeing this market.