We're still on about Galle after the literary festival. But it's impossible to make a trip down that way without dropping in at 'Mama's'. In a matter of months, since its opening nearly a decade ago, 'Mama's Café' on Leyn Bahn Street in the Fort developed a flattering international reputation for its rice-and-curry.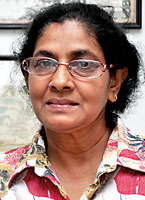 Malini Perera
What sets it apart from other similar places is the simple fact that there is no food like home-cooked food, because at Mama's, it's really Mama who cooks.
Malini Perera, in her simple skirt-and-blouse, is the shyest when I tell her everyone seems to just love her polos curry. She laughs, saying jokingly that "polos vitharak nemei, okkoma rasai (not just the polos, everything tastes good)" and she does not exaggerate. Mama doesn't know how she "became" such a good cook.
As most of us, she learnt the basics from her mother, but believes the gift is something she "brought from birth". What's special about her cooking, she thinks, might be the spices. She buys the raw ingredients from the market and spends time washing, cleaning, drying and pounding it to the right consistency. The mix, she puts together intuitively and bottles for the next few weeks, sending some to her daughter's store down the next street.
Her chicken and polos curries get special blends of curry powder prepared for them, but the other curries on the buffet line-up get the usual amu paha, turmeric, maldive fish, chillies, garlic, rampe, karapincha etc. They're still so special because everything falls from Mama's own hand, and as our mothers and grandmothers know, there is so much more in the hand that cooks than in the ingredients themselves.
"I want everything right" she smiles, "the taste, the aroma, and I also need the food to look good," she says. But it must be Malini's simple generosity that makes her cooking irresistible – in her typically "Mama" way, she is not happy to let me leave without having eaten something, asking every few minutes whether I'll not have some lunch, or "something small", or even a drink from their extensive menu.
Mama's Cafe serves breakfast, lunch, dinner, full course meals, snacks, and drinks and takes special pride in their Coconut Flan.
To get to the food though, one must walk up the quaintest little wooden staircase that curls tightly upwards, past the guest rooms and little reading nooks to the rooftop. Wide windows, soft light, sea breeze and a view above the Fort rooftops to the sea... perfect for a chilled out meal in the heat of the midday sun.
Quietly managing the bustle of the place is Malini's husband Jerome; the man behind the name 'Mama's'. Malini giggles shyly as she relates the story of how during the planning stages, Jerome would constantly be sharing his ideas with her.
"He loves me so much, really," she smiles, "that every five minutes it was 'Mama, mama, mama'" as he shared every little part of the plan with her – "that's just the way he is". And so when it came to naming the restaurant/guest house, there were no two questions about it, 'Mama's' it was.
Malini and Jerome's younger daughter, Dinesha, helps with the accounts it seems, and where the great food and comfy atmosphere come from is becoming obvious. It feels ridiculous to call the staff that wait the tables "waiters" because they are smiling away and genuinely happy to be serving you, as if it's a simply matter of passing a dish down the table. It's a simple case of having stepped into the Perera's home to pay a visit and grab a bite.