"I have worked in our country for many years in the field of development, and wanted to share my experience in other developing countries," says Wasantha Ranjan Dias who worked as an Organisational Management Adviser in Sierra Leone. A trainer, counsellor and facilitator, in 2010 Ranjan was placed with the African Foundation for Development (AFFORD) in Sierra Leone for 12 months. He interacted with staff and communities to address keys organizational development systems and business development issues of disadvantaged communities in Sierra Leone.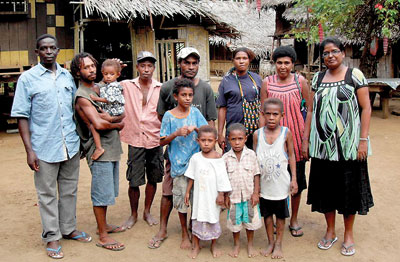 Sheela Daskara with a host family during her in country training in Papua New Guinea
He was one of five volunteers who were selected in 2009 and then sent to posting in Cameroon, Papua New Guinea and Sierra Leone. Each played a different role. Sheela Daskara worked as an HIV&AIDS Program Capacity Builder while Subajini Rajendram took her posting as a Gender Mainstreaming Expert. A.M. Mohomad Asmi worked as a Project Officer, Fathema Murtaza as a Communications Specialist and Dinali De Zoysa as a Management Advisor.
They were all chosen by VSO, an independent international development organisation that works through volunteers to fight global poverty. Beginning in 1958 VSO has recruited over 33,000 volunteers to work in over 120 countries. Currently, the organisation has over 1600 international volunteers working in 42 countries around the world. Typically, they work with post graduate students who are finishing their degrees or professionals who have been in the workplace for a short while.
However, of late, the organisation has begun scouting for volunteers among students who are currently in university as well. They say they're looking for flexibility and adaptability, cultural sensitivity, commitment to learning and a positive approach to volunteering. Of course, its only something for the foot loose and fancy free – volunteers can have no financial or personal commitments that will intrude on the year they've chosen to devote to their assignment.
There isn't a particular kind of background they're looking for, but they say experienced managers are in great demand. Professionals with experience of working in primary education, advocacy and communications; doctors and midwives are also high on the list. Volunteers are provided with return air tickets to the country in which their assignment will take place, a living allowance, accommodation and support before, during and after your placement. An extensive pre-departure training programme has also been designed to help prepare volunteers for what lies ahead.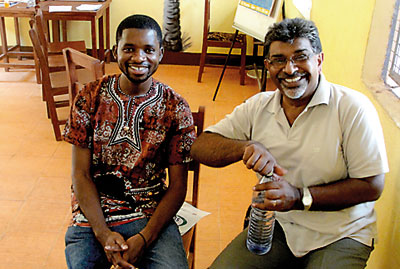 Wasantha Ranjan Dias who volunteered in Sierra Leone with an employee from his partner organisation
VSO's decision to recruit volunteers from Sri Lanka is part of a pilot program that was initiated by the NGO secretariat in Colombo and the VSO programme office. Speaking at the launch of the program, Lakshman Hulugalle, Director General for the National secretariat of Non-Governmental Organizations (NGOs) said "I am proud to say that Sri Lanka is no longer a place that just receives volunteers from other countries – our people have the valuable skills needed to help other countries fight poverty and disadvantage. These volunteers will also get some fantastic experience from working in challenging environments overseas. This is great news both for Sri Lanka and for the countries our volunteers will work in."
In Sri Lanka, volunteers are recruited through iVolunteer in India, a joint initiative of MITRA and VSO. iVolunteer Overseas selects volunteers on the basis of their personal and professional qualities. Individuals who take up the VSO challenge will work alongside local colleagues to improve public services such as healthcare and education; support those living with HIV and AIDS; and develop business and employment opportunities that help lift many thousands of people out of poverty. Its proved an exciting opportunity for some. "I had this dream of being a volunteer from school age. Once I achieved this dream last year, I saw the huge potential of volunteer work towards the development of the world. I saw the strong commitment of volunteers in achieving their development goals and I was proud to be a volunteer," says Sheela.
Since the pilot project was successful, VSO decided to continue recruiting volunteers from Sri Lanka. They have sent 10 volunteers to date to work in Asia and Africa, and two volunteers have returned further to completing their placements.