My trip to Galle was an amazing experience. The journey from Katunayake to Galle took us a bit more than 2 hours thanks to the new southern expressway. When my mom and I were on the expressway it was such a beautiful and smooth road with a great view.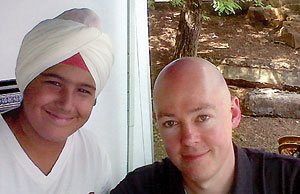 Hashmat with John Boyne
When we reached Galle it was beautiful with the lighthouse, a mosque and an incredible Clock Tower. Inside the Galle Fort was a Dutch reformed church, a hotel called Amangalle, old markets and houses and banners of the Galle Literary Festival.
We went for a session by John Boyne, author of 'The Boy In The Striped Pyjamas', ' The Crippen', Mutiny on the Bounty and many more books.
He talked about the book "The Boy In The Striped Pyjamas" and read a chapter. He was impressed with my view of the ending that the two friends died together holding hands. He also talked about how his parents influenced him to write books and how much he liked to read. I was really inspired by him, the way he talked, how he wrote his books and how he built on to an image that was created in his head. After the session we went to have our books autographed by him and it was a really long line.
I had a personal chat with John Boyne for 15 minutes and to me that was a once in a lifetime opportunity and I got it out of the hundreds that were attending the festival. I will never forget those few moments I had with him alone. After lunch our journey to Galle came to an end but it was a great day and both of us enjoyed it a lot. Hashmat Singh Bakshi (13)