It only comes around once in two years. But when it does it takes Colombo by storm! That's the Colombo Art Biennale (CAB) for you. Based on a particular theme conveyed through traditional art, installations and digital art as well, a host of local and foreign artists display their work around the bustling city for five colourful days.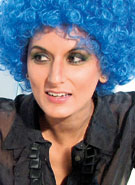 Linda Samaraweerova
Back in 2009 when the first CAB was held the theme was 'Imagining peace' as Sri Lanka lumbered out of three decades of war. Connecting the theme, this year the festival focuses on 'Becoming'- 'that speaks to all the possibilities of the present in Sri Lanka', according to CAB organisers.
This year the festival will feature 26 local artists and 17 foreign artists who will display their thought provoking work at Park Street Mews, J.D.A. Perera Gallery and National Art Gallery to name a few of the venues.
Adding to the festival atmosphere, CAB will also feature fringe events such as exhibitions, performances, workshops, screenings, art talks including panel discussions, debates and presentations.
The second Colombo Art Biennale will be held from February 15 to 19 and below are descriptions of some of the participating artists both local and foreign.
Anura Krishantha
'Landscape' resembles a ruined terrain littered with pieces of toy guns that look like broken building parts. A 100 of these pieces are placed randomly on a surface that looks like an aerial photograph of a landscape. The broken pieces are cemented with clay so that each piece is black and earth-coloured.
A video projection will show white dust, resembling 'snow' falling on down on this landscape. The fallen snow then moves away to reveal the ruined landscape beneath.
The main inspiration for the work comes from those numerous images that we saw during the last days of the war in the north of Sri Lanka in 2009. However, this work is not about just the war, it is more about the fragility of living in a time that is searching for itself.
The landscape is positioned in a changing phase where the white shower of 'snow' is shed to reveal the murky state. The landscape is in a state of flux.
Anura attributes the progress of his artistic journey, to the Vibhavi Art Academy and Theertha International Artists Collective. Over the last eight years, Anura has showcased his work both locally and internationally in Maldives, Japan, Vienna and China.
Janananda Laksiri
Mirror Images – the work is an effort to grasp the changes of one engaged in the process of transition – the infinite complexities of every move. A play of flickering lights and reflections; hanging bats and entangled kites; and sound activated only when one enters the space. The situation in the enclosed space is affected and changed by the visitor.
Janananda Laksiri lives and works in Sri Lanka as a full time professional artist. He has participated in a number of art exhibitions in Sri Lanka as well as abroad. His art includes painting, sculpture, installation, and object art. Laksiri is an IT competent artist who has done numerous digital art works, i.e. digital photos and videos. He is the chief graphic designer, animator and video editor at Theertha International Artist Collective.
He is a participant cum organizer of many community art projects such as teacher training and other workshops organized by Theertha the Vibhavi Academy of Fine Arts, the National Design Centre, Sri Lanka and his engagement with Theertha, has profoundly shaped his art practice.
Jesper Nordahl
'Yakkuoo (devils)' and Katunayake FTZ are two short-films based on a drama rehearsal of the play "Yakkuoo" (devils) by the women workers and activists from the Free Trade Zones (FTZ) in Sri Lanka. It also contains interviews with lawyers, activists and researchers addressing gender as the central element of broader social, economic and political issues.
The short-films are based on the various ways of storytelling – of stories that produce counter hegemonic narratives. It uses storytelling as knowledge production - to make another history - to become. Knowledge constructs or produces history.
Jesper Nordahl was born in Sweden where he is also currently based. His work has been shown internationally, including in exhibitions at Shedhalle Zurich, ModernaMuseet Stockholm, INDEX Stockholm, Artists Space New York, Grazer Kunstverein Graz, KunstlerhausBethanien Berlin and Dolores at Ellen de Bruijne Projects Amsterdam.
Nordahl graduated from the Royal Institute of Art in Stockholm 2000 and took part in The Whitney ISP in New York 2006. He has lived in Sri Lanka in 1982-84 when his father was working with SIDA and Skanska to build the Kotmale Dam. He has since returned twice to Sri Lanka for residencies at the Theertha International Artists Collective.
Tori Wrånes
"I feel that I hunt while I am being hunted. It is a kind of desire to find something I do not know what is, but that is good."
She began as a rock star in a Norwegian band, parallel to working as an actress. In 2004 she started at the National Art Academy in Oslo, Norway. Her interest in the human presence has made her work free across different genres, blending theatre, visual arts and music into one artwork.
Born in Norway Tori works mainly with voice and sculpture based on performing art. When the performance is over, the objects are left behind, testifying to the action. Wrånes' works are about human electricity in a focused period of time, where she tries to expand the concept of reality (through vocal and sculptural experiments).
She graduated from Oslo National Academy of the Arts in 2009, and lives and works in Los Angeles, USA and Oslo, Norway.
Vibha Galhotra

"Neo Monster" is a structure of an Earth Mover but represented as a toy. Machines are used all over as toys. This metaphor is used to convey the constant changing environment, the loss of natural resources, at the cost of proliferating production to feed the hunger of a growing consumer society.
It depicts the deconstructing of an already constructed environment rather than reconstructing the same. If such maddening over production is continued to feed the greed of the consumer world, the green would be replaced by grey, the forests would transform into jungles of concrete. It addresses the changing processes.
Vibha received her B.F.A from the Government College of Arts, Chandigarh and Masters from Kala-Bhavan, Santiniketan, India. She has been awarded with Inlaks Foundation Award, HRD National Scholarship, Artist Under 30Yr Award, Chandigarh State Lalit Kala Academy award and several of residencies, solo shows and group shows in India and abroad.
She attempts to recognise the vital currents that are causative of change around us by persistently depicting interventions that focus on the meta-dynamic of change.
The Fireflies Artists' Network
"Redefining Serendipity" is a reflection of the psychological and emotional borders of one's place of belonging according to different historical contexts and people's/groups' experiences and memories. This interpretive process or the process of change will remain always in a situation of flux leaving a certain anxiety or unrest.
Is this process of "healing and reconciliation" happening hand in hand with the development changes we are so exuberantly celebrating? Or, are the developments a physical and lasting monument to the powers that be that brought about the end to the age old war?
The Fireflies Artists' Network emerged through the Women Artists' Colloquium (WAC) which was started by Theertha as a programme that encourages female artists to actively engage in their art practice. The core group comprises of artists from Sri Lanka, India, Nepal, Malaysia, Ireland and USA respectively.
Its objectives are to expand, network and share knowledge with women artists to grow beyond their own geographical and cultural borders in order to expand their artistic experience and expressions by opening up opportunities to connect with the outside art world.
Maria McCavana
"Engage" - is about responding to change and place. An analysis of how Sri Lankans interpret their situation in a post-war context. The work retells and re-records the ventures, tragedies, losses, skills and stories that were involved in their original discovery and creation, removing objects and imagery from their original historical and geographical context to a place of transition and change.
The viewer is invited to reconsider the meaning of the images and to consider the consequence of re-interpretation.
Maria McCavana was brought up in Northern Ireland and moved to Scotland to study Drawing and Painting at Glasgow School of Art. After completing the Bachelor of Arts course and then the Master of Fine Arts Course she spent 3 months at Hunter College, New York.
Since then she has exhibited across Europe and been an artist in resident in The Faroe Islands and The Creation Centre in Sri Lanka and will be returning to Sri Lanka this year to be Artist in residency at Sura Medura Arts Centre. Her work is influenced by her life in Northern Ireland and previous experience as an artist in residence in Sri Lanka .
David Barbarino

"Arcadia remembered" (Part I & II) are two large scale pastoral paintings referencing Poussin's versions of his painting: "Et in Arcadia ego". The work acts as a "memento mori" and juxtaposes the idea of Arcadia with the theme of "Becoming" and its implication of movement and evolution. At the moment of awareness, that nothing is constant in this world, except change or becoming, Arcadia becomes but a memory.
Born in 1980 in Wiesbaden, Germany, David studied Fine Art at Central Saint Martins, London (200-2005). In 2004, he exhibited at "Utopia Station", curated by Hans-Ulrich Obrist in the Haus der Kunst, Munich. In 2005-06, he took part in the CCA Research Program in Kitakyushu, Japan.
After taking part in several large exhibitions, early on during his study period in London, David became increasingly weary of the cultural politics and favouritism that frustrated and "boxed in" artistic development. The research period in Japan then gave him space and time to explore ideas and pathways with peers and a chance to experiment with showing works in a critical and professional context.