Hungarian French-Horn soloist Aron Konczie, will perform Richard Strauss' French Horn concerto in the Symphony Orchestra of Sri Lanka's (SOSL) German Masterworks concert, at the newly opened Musaeus College Auditorium on February 18.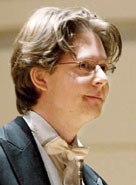 Aron Konczie
This concert, conducted by German conductor Dr. Hans-Jurgen Nagel, will also present Mozart's delightful Overture to the Magic Flute and Beethoven's powerful Fifth symphony. Aron Konczie, who will be visiting Sri Lanka for the first time, will delight the audience with his performance on an instrument which is rarely heard in this country.
The audience will be treated to a performance of a concerto described as one that "features a virtuoso solo part that highlights both the heroic and lyrical qualities of the instrument".
Aron Konzcei has a varied orchestral experience. He has played solo horn for the State Opera of Wiesbaden, for the West-Eastern Divan Orchestra conducted by Daniel Baremboim and for the Mahler-Bruckner cycle in Europe, USA and South America with Daniel Baremboim and Pierre Boulez.
He studied music at the Palma Szilagyi –Conservatory of Music under Leo Warner and later at the Academy of Music "Hans Eisler" Berlin with Professor Marie-Luise Neunecker.
His considerable achievements include reaching the finals at many international horn competitions and winning first prize at the International Horn Competition, Bekes(Hungary) and at the National Horn Competition for Conservatories (Hungary). Box plan and tickets will be at the Park Street Mews, Colombo 2.