The Plantation Ministry is awaiting directives from the President's Office to go ahead with plans to take over underutilised lands in the plantation sector. Plantation Industries Ministry Secretary Malani Peiris told the Sunday Times that a mechanism would be worked out after the directives are given.
"Currently, there are many investors, estate workers and outsiders waiting for lands," she said.
"There is a misconception that lands will be given to outsiders. We will ensure a fair distribution of the land where all will benefit," she added. She said that the issue of acquiring land was a 'sensitive issue' with some politicians trying to capitalise on the matter.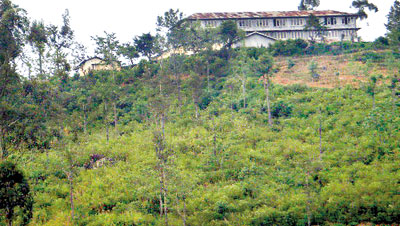 The Maskeliya tea factory that has been shut down for many years. Pic by T. Perumal
"We will act very carefully after studying all the proposals," she added. UNP MP R. Yogarajan told the Sunday Times that, despite there being an under utilisation of land, there was no necessity to acquire the lands and redistribute them.
"Instead, the Government can make use of the available workforce in the estates by providing facilities for them to cultivate the lands and maximise the crops. This will help uplift their income and living standards," he said.
He said that, under the proposed plan, Government hopes to take over 37,000 hectares of land (85,000 acres) from the plantation companies and give them to smallholders.
"What is the need to bring in outsiders, when there is an experienced workforce within the estate sector, which has been in existence for more than 100 years in the estates. It will create a social problem in the estates," he added.
He said that, if the land is given to the estate workers, they have the capability of cultivating the lands at a very low cost, and they in turn will supply the respective companies with their production. Trade union officials based in the estate sector told the Sunday Times that, after 1992, some of the companies combined the estates under them and maintained only one factory, in order to raise profits, resulting in closure of some of the factories.
They said that, as a result, some of the estates were abandoned after people started losing jobs, which resulted in under utilization of the land. The companies too had cut down the working hours, prompting many of the male workers to find alternate employment.
Some of the plantation companies started using land to cultivate vegetables, resulting in loss of income to the companies, forcing them to further abandon land. Cost of production also has increased, as some of the estates which depend on hydropower generated from their own turbines, shut them down and relied on power from the Ceylon Electricity Board.
Meanwhile, estate workers have expressed fears that there could be social issues by bringing in 'outsiders' into the estates. "Some of them will try encroaching into estate lands, causing problems," a worker from Hatton, who wished to remain anonymous said.