Deaf people are often an overlooked lot but they are still a productive and equally important increasing sector of our population, Dr. Ajith C. S. Perera, an activist for the rights of the disabled said. Dr. Perera was speaking as the chief guest at the annual general meeting of the National Council for the Deaf held at the Ceylon Continental Hotel last week.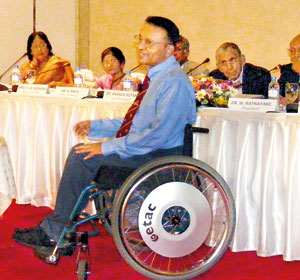 Dr. Perera at the event
"They are far more likely to suffer from debilitating medical conditions and prone to meet with accidents. Why? It is not because their bodies and mind are any different," he said.
"It can only be because deaf people do not get the same access to information, education and services. Even accessing the built environments in day-to-day life, that still continue to violate design standards the laws specify, the deaf in particular run far greater risks of meeting safety hazards," he added.
He said:
"As fully fledged citizens, regardless of degree of ability, it is an inherent right of everyone – including the deaf – that public facilities built by man must be accessible and usable with safety and with dignity."
"It is a long felt vital necessity of National importance; not a luxury nor unwanted expenditure but an indispensable low cost economic investment for sustainable development as the involvement of people with restricted ability creates opportunities for everyone – with or without any disability."
"To facilitate this task of national importance, orders have been issued by the Supreme Court last April under the reference SCFR 221/2009. It makes it mandatory to comply with design standards specified by the laws that were gazetted on October 17, 2006 and unanimously approved in Parliament on March 20, 2007."