Chanith de Silva, a nine-year-old emerging tennis star from Bandarawela has been the cynosure of all eyes as he has been winning many titles at a very early stage. Chanith who is a Grade 5 student at S. Thomas' College, Bandarawela has achieved some great tennis feats during his short career.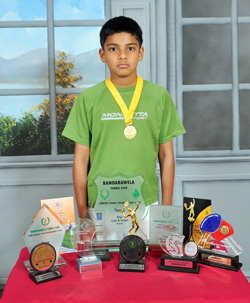 No doubt Chanith had the skills imbedded in him at the very start. However he knew very little about tennis as he related about the beginning. "I liked cricket and attended practices. Since my family had direct links with tennis it was easy for me to understand the sport as a youngster," he explained.
In 2008, the Bandarawela Tennis Club obtained the services of a new coach . This coach was keen on developing the tennis skills of the youngsters in the area. Chanith who was 6-years-old at that time was also a member of the squad of youngsters who attended training. During a short period Chanith was able to display his true potential.
Several reasons were behind his rapid rise in the sport. One of his aunties was a leading tennis player at the University level and his grandfather, Patrick de Silva was a prominent player in the Uva region. Regular visits to the Bandarawela Tennis Club where his father is a member and a past president, who showed interest in encouraging Chanith too added fuel into Chanith's interest which had been kept a secret so far.
An year later after his swift progress, Chanith began competing at tournaments in the age category of Under-8. He represented many tournaments while winning a quite a lot of them. But his real triumph was when he received ranking points. This happened during his first year in the Under-10 age category.
During the past two years Chanith has received many accolades from the local tennis fraternity. He has emerged to the top at many ranking tournaments conducted by the Sri Lanka Tennis Association (SLTA). At the end of this year, Chanith was ranked second in the Under-10 age category by the SLTA with over 1000 points.
To achieve this feat Chanith even went on to beat much older players at various tournaments held throughout the island. The ranking tournaments he took part were Bandarawela Tennis Club Open, SSC Open, Kandy Garden Club Open, Matale District Tennis Club Open and Colombo Queens Club Open where he was treated as a star for his displays.
His talent earned Chanith the Best Tennis Player's award during the years of 2010 and 2011 at his school, S. Thomas' Bandarawela. In addition to his skills at tennis, he is also a talented table tennis player. He has already won the Under-13 singles and doubles titles at S. Thomas' Table Tennis tournaments and hopes to win similar successes at tennis. Eventually his achievements forced Chanith to devote more time for tennis. As a result he gave up cricket completely.
Similarly as at sports, Chanith is a bright student who got through the fifth grade scholarship examination held in August this year. He will remain in the Under-10 age category for another year. His present ranking will only take Chanith to the top where he has all the potential to top the seeding. His main aim is to top rankings at all age groups on his way to reach national status one day. His ultimate hope is to represent Sri Lanka internationally and win ATP status. The youngster is coached by Prasanna Athauda who has guided many budding young tennis players in the country to the correct track.