Debbie Gilliland - International Partnership Manager and Programmes Advisor from the Business School of Staffordshire University conducted a presentation on "Consumer Behaviour" on 29th November 2011 at APIIT City Campus. The APIIT Graduate School organised this presentation for the benefit of their students who are currently following the MBA and MSc programmes from Staffordshire University, UK.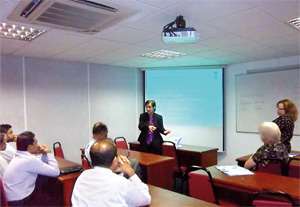 Chris Slade and Debbie Gilliland, addressing the gathering.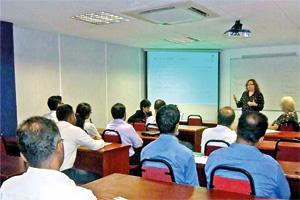 Debbie Gilliland, conducting the seminar on "Consumer Behaviour"
Debbie Gilliland, with her immense academic experience in the UK and the European market, delivered a very interesting presentation on how consumer behaviour has changed drastically in Europe and the lessons that business professionals should learn in terms of adapting their business to fast -changing needs of the modern consumer.
An information sharing session was also conducted for students who are interested in joining the Staffordshire University Masters degrees offered at APIIT Graduate School. Prospective students had the valuable opportunity of interacting with the Staffordshire University representatives. APIIT was privileged to have the presence of Ms. Chris Slade, Director of Partnerships in the programme and she enlightened the audience on how Staffordshire University is looking forward to strengthening the partnership with APIIT Sri Lanka.
The APIIT Graduate School currently conducts both MBA and MSc degrees from Staffordshire University, UK. Debbie Gilliland addressed the students interested in following MBA programmes that are offered at APIIT Graduate School and the unique features of the MBA programmes, while Rosemary Borup, International Programmes Advisor from the Faculty of Computing, Engineering and Technology of Staffordshire University addressed students interested in joining the MSc degree awards offered at APIIT Graduate School. Further Elaborating, Rosemary Borup explained the processes that are in place to monitor and maintain the quality of the Staffordshire University programmes that are delivered at APIIT Lanka.
Some of the unique features of the masters degrees offered at APIIT Graduate School are: Internal British Masters Degrees, Flexible Programme Delivery, Highly committed Academic Faculty, Industry Focused Dissertations and Excellent Student Support.
APIIT Graduate School was established with the aim of producing highly competent professionals who are globally competitive in the relevant fields and contribute to the socio economic development of the country. In order to achieve its mission, APIIT Graduate School offers up-to-date, internationally recognized Masters Degree programmes with curricula adapted to the needs of the local industry and commerce.
With its strong international relations, global standards and single-minded focus on quality in higher education, APIIT has emerged as the higher education institute of choice to achieve one's dreams and career goals. Surely, it's more than a degree that you will receive at APIIT. Students wishing to experience the APIIT Advantage are advised to contact Erandi on 0777 535393 or info@apiit.lk, or visit APIIT City Campus at 388, Union Place, Colombo 2 for further information and assistance.