Harvard normally accepts only one Sri Lankan student each year, yet Elizabeth Moir School currently has past pupils in three out of the four classes there, all on full scholarships. Harvard is regularly ranked 1st in the different rankings of world universities and alumni include 8 US Presidents, including John F Kennedy and Barack Obama, and 62 current billionaires. Given how unusual it is to have three students there at the same time – unique, perhaps, for a Sri Lankan school – we decided to catch up with them and find out how their courses were going.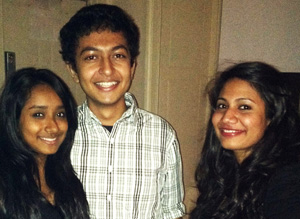 Sabrina Ghouse, Atul Bhattarai and Nirasha Guruge
Nirasha Guruge is now in her Senior year at Harvard, studying Economics, and is also Co-Captain of the Women's Squash team, having been named to the CSA All-American team for the past three years. Nirasha was Sri Lanka's National Squash Champion from the age of 14 and was one of three Elizabeth Moir School students to represent Sri Lanka at the 15th Asian Games in Doha in 2006. She also found time to gain 3 A grades at A Level. Looking back on her time at school, Nirasha says: 'What stood out for me about Elizabeth Moir School were the teachers, who all played such an enormous role in our lives. Everyone was incredibly friendly; it was the best time of my life.'
A star student at school, Atul Bhattarai gained 9 A grades at O Level and 4 A grades at A Level, and is now a sophomore at Harvard. Having been President of the Press Club in school, he is now an Editor of The Harvard Crimson, the oldest college daily newspaper in the US. He has also recently had an article published in the Harvard Political Review (a national magazine founded by then Harvard student Al Gore, among others). Atul remains grateful to the school, saying: 'It was through the school's careful guidance and support that I achieved what I did academically, and through its extra-curricular emphasis I discovered my passion for writing.'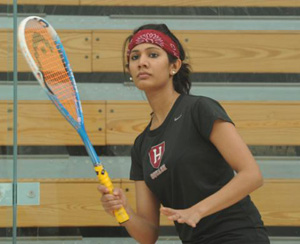 Nirasha Guruge
The foundations of Sabrina Ghouse's success were laid at Elizabeth Moir Junior School, where she was Head Prefect. She went on to gain 10 A grades at O Level, winning an Edexcel Award for the best results in Sri Lanka, and 4 A grades at A Level. She started at Harvard this term and has been appointed Event Chairman of the Harvard Art Society. She is already very involved in community service projects, as she was in school, and is one of five students who have been chosen to go to Beijing in January to work in orphanages as part of the Harvard China Care programme. Sabrina says: 'After spending 11 years at Elizabeth Moir School, my teachers and peers became my family.
Throughout my time at school, I was able to contribute to every club, activity and event I was passionate about.' When asked to explain the success of the school's students, Mrs. Elizabeth Moir, the Head of School, said: 'Obviously good exam results are important: last year, well over half of the papers sat by our students at A Level were graded A or A*, and over 75% at IGCSE. We compare ourselves to the top private schools in England, and these results rank with some of the very best.
More than results, however, it is the wider interests and all-round excellence of our students that make them stand out. I have been sending students from Sri Lanka to top universities for thirty years so we know what they look for. We also have a full-time universities adviser to ensure that students are guided through every step of the application process. In fact, our recommendations are valued so much by top universities that several have asked us to nominate students for scholarships on an annual basis.'