The migraine attack is terrible. He takes the right hand and presses the point of his ballpoint pen to the flesh close to the end of the nail of the tiniest finger of one hand for a little while, followed by the same action to the other hand. Next he locates the "pressure points" on the sides of the forehead next to the eyes.
The migraine eases with the action. This is alternative-medicine practitioner Dr. Rasika Yamasinghe putting into practice on one of the Sunday Times journalists what he is offering his patients at the McCarthy Pvt. Hospital.
Embroiled in court cases filed by some family members, McCarthy -- the oldest and only private hospital in Cinnamon Gardens on a 60-perch block of prime land -- has seen better times, but Chairman Chandima de Silva is once again attempting to revive it to what it was in those early days.
Acupressure relies on the stimulation of the many pressure points in the human body to bring about not only pain relief but also shed all those extra pounds, says Dr. Yamasinghe who has specialized in this ancient form of alternative medicine. "Pressure points can be used to relieve stress and reduce fat," he says, explaining that it focuses on the flow of vital energy through the body along 14 meridians. The main pressure points are in the head region, arms and below the knees.
Dr. Yamasinghe has obtained his Doctor of Medicine degree in Ukraine, a Ph.D in Alternative Medicine in Sri Lanka and many diplomas.But he does not practise western medicine.
Referring to the slimming programme without a dieting and exercise regimen that he has introduced at McCarthy, he says people are required to come thrice a week for the "treatment" that involves a massage of the pressure points in sessions lasting 30 minutes each. The process takes about three months, with the person losing a pound a day.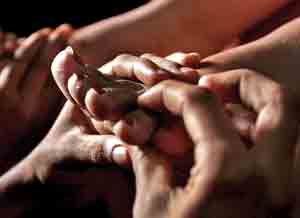 Pressure-point technique is used to heal many ailments. Pic by M.A. Pushpa Kumara
Dr. Yamasinghe believes that he is the only person practising this type of slimming in the country.
When he connects the Sunday Times to a person who has successfully completed the slimming programme, we hear that this 67-year-old had lost 26 kilos, reducing from 86 to 60kg in two months. That was in July. Now she is maintaining her weight at 64kg. She does "guard" her mouth, having cut down on sugar and heavy meals.
Explaining that weight loss depends on the individual and the programme may have varying results according to the metabolic rate and physical build of that person, Dr. Yamasinghe says that on average a person is expected to lose between 5-20kg.
The same pressure-point technique is used for ailments such as migraine, sinusitis, frozen shoulder and diabetes, he says. Acupressure has no side effects, according to him, but is not carried out on expectant mothers and children below the age of 10 years.
Another aspect of the pressure-point stimulation is foot reflexology, adds Dr. Yamasinghe. Foot pressure points relate to all organs, so their stimulation leads to the better functioning of these organs.
Sixty-nine-year-old Mr. de Silva who took over the reins of McCarthy in 1976 after the death of his father Dr. G.C.I. de Silva, having worked at state-owned as well as private plantations in the country, met the challenge head-on. There were only nine beds when he took over which he gradually increased to 15, he says with pride, going back in time. McCarthy had been founded way back in 1965.
He also persuaded more Consultants to visit McCarthy, but court action filed by some of his siblings led to an order to shut down the laboratory and the pharmacy which led to the decline of this hospital.
However, Mr. de Silva, who has also done a stint as Chairman of the Sri Jayewardenepura General Hospital (from 1998-2002) turning over a loss-making hospital to a viable one, is not ready to throw in the towel at McCarthy. He recalls how Sri Jayewardenepura Hospital was being ruled by a set of ruffians hand-in-glove with lazy attendants whom he got rid of soon after donning the mantle. "I cut down the food wastage in the hospital by about 70%," he says.
He is attempting to make McCarthy come back into the mainstream by introducing geriatric services, a dire need in this country, which is heading towards an ageing population. "We have more than half-occupancy now," he says, hoping to gradually start providing other medical services.
Going into detail about the geriatric services, he says McCarthy provides basic medical and nursing care and all the meals to any elderly patient who is warded here. Each room has an attached toilet, a TV, a mini refrigerator, an extra bed and attendants on rotation. Any Specialist channelling would be an extra.
Mr. de Silva's vision for McCarthy includes refurbishing the private hospital including the operating theatre and introducing services like cataract surgery.