Standing out from the rest of the pack owing to the miniature board on top, metered taxis are slowly starting to fit into – or rather tuk tuk their way into society. With bus transport increasingly unreliable, the three-wheeler is sometimes your only option on the road. But having been literally taken for a ride, having to pay through the nose, the advent of the metered three-wheeler has been greeted enthusiastically by regular tuk-tuk users.
So do they really make a difference?
A walk down Greenpath has a plethora of un-metered tuk tuks swooping down on us but we wave them away waiting till we spot a metered taxi. The ride from Greenpath to Borella begins with the meter starting to tick from the minimum charge of Rs. 50.
Metered three-wheelers are not new to Sri Lanka, in fact the first move to introduce the concept dates back to 2002, when it was rejected by the Western Provincial Council. In 2007, without the blessings of the Government, they went ahead.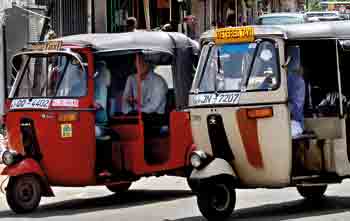 Metered taxis the pick of many. Pic by M.A. Pushpa Kumara
Our metered taxi chugs its way past Town Hall towards Borella and we ask the driver how he views it. "Sir meka athata vaasi," he says, explaining that the metered taxi is more profitable. The initial installation of the meter costs around Rs. 10,000 to 12,000, which is quite a lump sum for the self-employed but he wanted to earn more cash in the long run, and break away from the usual three-wheel status, Waruna the middle-aged driver says, touching on the fact that many view three-wheel drivers with suspicion.
"If you go to the same three wheeler stand and ask five different three-wheeler drivers for the same hire, they will tell you five different prices," he confesses. "The prices are never the same, and it can be considered a scam." Waruna has been self-employed for over three years now and says he saw the practicality of switching to the metered taxi.
Kelum Jayasumana, CEO of Three Wheel Lanka Auto Tech (Pvt) Ltd, which runs a budget taxi operation, speaking to the Sunday Times said that they are aiming to change the three-wheel concept in Sri Lanka. "Of late people have further lost the little trust they had in three-wheeler drivers, because many are becoming increasingly reckless and sometimes even drive after consuming alcohol. A metered taxi driver is viewed slightly better. A degree of discipline is involved and their outlook is much better, he states.
Considered the pioneer of budget taxis in Sri Lanka, Three Wheel Lanka now has 13 branches islandwide, with 800 registered three-wheelers and 89 Nano cabs. Mr. Jayasumana said that around 25 to 30 new drivers join the company every week and the demand for their services from passengers is enormous. The switch is on, it seems.
The drivers are given a comprehensive training at Three Wheel Lanka, including workshops on road ethics and even humane behaviour. All the drivers are required to wear uniform, and also maintain their tuk tuks in prime condition. "We have placed several inspectors who monitor these rules as there should be a set standard, and a weekly maintenance report for every vehicle," Mr. Jayasumana adds.
Meter-taxis can thus function independently or under the patronage of a company such as Three Wheel Lanka. The latter would require the driver to pay a daily fee of Rs.100 to the company, regardless of the number of hires. "We end up paying Rs. 3000 a month to the company, and that too after bearing the installation costs, but still it seems worth it," states Priyantha, a driver who recently switched over to the meter. "I feel that my freedom is hindered, but I won't change my decision."
In general the response from the public to meter-taxis is positive. "Meter-taxis are definitely my pick, they have proved to be cheaper, and also the drivers are careful and polite," says Amara, a mother, who is a frequent passenger. "Meter-taxis are good but they need to improve themselves, by responding faster to calls. Sometimes they tend to take longer routes to charge more, this should be corrected," says Junaid, another customer.
The registered metered taxis fall under the umbrella of the 'All Island Three Wheel Drivers' Association', which sees to the welfare of the drivers. Currently there are more than 4000 registered meter-taxis on the streets of Colombo of a total of 618,433 registered three wheelers currently functioning islandwide.
Though the numbers are still low, the Transport Ministry is in favour of promoting meter-taxis islandwide and is looking to bring in legislation to this effect. Deputy Minister for Transport Rohana Dissanayake told the Sunday Times that a new public transport policy to be approved will require three-wheel drivers to wear uniforms, act humanely, ban loud music and have their vehicle insured at all times. "We want to uplift the three-wheel driver status and make it a respectable job in society," the Deputy Minister said.
Asked how practical the new reforms would be the Minister stated that it would be difficult to address the current three-wheel population, but if laws are passed they would have to heed them unconditionally. "The budget taxis will also be monitored, the police will be incorporated in this task, and proper training schemes will be carried out," the Minster added. Hopefully all this will be a reality soon.
Our three-wheeler pulls up at Borella junction and the meter reads Rs. 110, from Greenpath – a very reasonable fare. The same ride cost Rs. 150 and Rs. 200 in un-metered taxis, indicating how fares are fixed on the whim of the driver. A ride from BMICH to Rajagiriya costs Rs. 200 on a metered-taxi as opposed to a much negotiated Rs. 250 on a normal three-wheeler. It cost Rs. 250 from Rajagiriya to Malabe, as opposed to Rs. 300, and Rs. 350. Surprisingly a ride from Kelaniya to Thalahena cost only Rs. 350, and would have been multiplied by a certain number of factors in a normal taxi.
There is no doubt that the meter-taxis do ease the burden on your wallet, though the problem now is in finding one when you need it.