In Sri Lanka, mahouts are invariably men. Boys grow up learning the family business but it's not really sexism that restricts the club's membership to one gender. The Sri Lankan elephant (whose scientific name is the particularly telling 'Elephas maximus maximus') can reach over 5,000 kg in weight and stand over 10 feet tall. Controlling such an enormous animal requires much experience and skill. Even then, elephants lost in panic or rage have been known to trample their controllers. It is for this reason that 16-year-old Chandani Rathnayaka never really had a chance of becoming a fully-fledged mahout – but that didn't stop her from trying.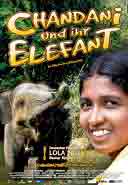 "Chandani: The Daughter of the Elephant Whisperer", a documentary film made by a German company, was recently screened at the Goethe Institut's European Film Festival. Now 21 years old, Chandani sat among the audience, eyes brimming as she watched herself on the screen. Born into a family that had worked as mahouts for four generations, Chandani says she grew up around elephants. Their innate intelligence won her over, and she delighted in being able to speak to them and feed them. Her father, Sunamabanda had long been chief mahout at the Pinnawela Elephant Orphanage and in a real break from tradition he encouraged his daughter to follow in his footsteps.
A slim girl, with her plait hanging halfway down her back, Chandani was put in charge of a calf named Kandula. Watching her with her young charge, German director Arne Birkenstock says it was clear the two had formed a strong bond. "She loved elephants far beyond someone who had to just keep an eye on them," he tells me, adding that it was evidently a result of her family's long acquaintance with the animals. "It was obvious that this had been deeply felt for many generations." The movie, which was meant for a young audience, detailed Chandani and Kandula's subsequent adventures – with room for amusing interludes like the time Kandula pulls his chain loose and wreaks havoc with the Rathnayakas' laundry line.
Filming took place over three years – from 2006 to 2009 – and over that period, Chandani says she learnt a great deal. A particularly transformative experience was when she spent nearly four months studying wild elephants in the Udawalawe National Park in the company of a wildlife ranger known as Mohammed. The film captures her first encounter with a charging elephant – wisely she abandons dignity to hastily scramble out of the way. The shock of seeing these animals as they were in the wild soon wore off though, and Chandani says she took a great deal away from the experience, including the conviction that Kandula would be happier out there.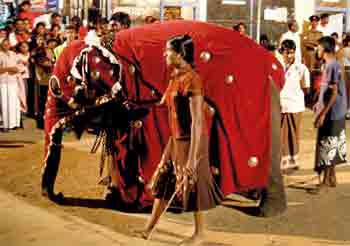 Chandani and Kandula at the perahera: A scene from the film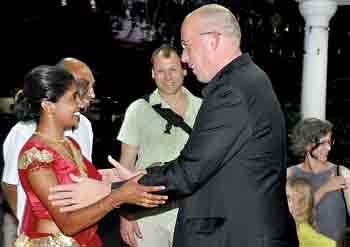 Happy reunion: Arne greets Chandani at the Goethe Institut's closing reception for the European Film Festival. Pix by Mangala Weerasekera
Though Chandani is able to actually participate in a perahera, the mahouts finally reject her application to become one of them on the grounds of safety. Arne and his team who had followed Chandani so closely had to see her cope with that decision. "As a documentary film maker you develop a double personality," says Arne, explaining that one inevitably becomes good friends with the protagonist of the film. "You stay with them for a very long time, and you wish them the best," he explains, "but as a documentary film maker, you know that conflict is good for a film." Arne however, believes that the real heart of the film is not so much in Chandani's struggle to become a mahout, but in her tender relationship with the calf Kandula. "At the end, the interesting decision for Chandani is not so much whether to try to stay as a mahout or go to work in the National Park, but what to do with the little elephant."
One of the movie's most moving scenes is the one where the two part. When Chandani decides that Kandula should be allowed to return to the wild, it's a decision that has provoked varied emotions in the film's young audiences. 5 or 6 year olds often feel it was unfair that she was forced to give up her pet, says Arne, but older children in contrast see it as a happy end. As usual, off screen life continues to offer more complicated choices. Though Chandani continues to help her father, she is studying accounting and computer science and has given up on becoming a mahout. She is, however, one of the few in her family to progress so far academically and has done her parents proud.
The film's other protagonist, Kandula, the elephant calf, has become a part of the Kandy Perahera. Chandani says she and her father met their old friend last year, and the elephant clearly recognized them. Despite the fact that things haven't worked out quite as planned, Chandani's story has won her many fans. The movie which had a theatrical release in Germany did quite well internationally, garnering a 2011 German Film Award "LOLA" for the 'Best Children's Feature,' 'Best Documentary: Children's Jury Prize' at the Chicago International Children's Film Festival 2010 and a nomination for Goldener Spatz 2010, again for 'Best Children's Documentary'. Arne describes sitting in a theatre watching the movie, surrounded by enthusiastic children as deeply enjoyable.
But he felt it was more crucially one that taught its young audience something new about the world beyond their borders. Afterward he fielded many questions about Sri Lanka and elephants, and in particular about the relationship between people and these giant mammals. Now more recently, having returned to Sri Lanka for a week, he has been able to enjoy "going back into the movie." Not least has been his happiness in being able to introduce his wife and children to Chandani and her family. Looking back on his stay on the eve of his departure, he sums it up:"it's been a wonderful experience."