Nothing technical about it. McDonald's established itself near Rome's Spanish Steps in 1986. Protestations were in order. Resistance budded, blossoming in 1989 into the Slow Food Movement. Founded by Carlo Petrini it's now an international non-profit, eco-gastronomic member-supported organization counteracting fast food, fast life and culinary commercialisation through preservation of traditional and regional cuisine and farming/rearing.
"Slow Food" is just back to basics. First you introduce McDonalds and then you launch a fancy-sounding movement like "Slow Food," dish out "slow food" and cash in on age-old methods of cultivating and preparing food.… It's like replacing cane baskets with polythene bags which are then declared unwholesome so you re-launch the cane basket and give it an impressive and intimidating name like "Eco-friendly contraption for conveyance…" Priced equally impressively and intimidatingly.
"Slow Food" in Colombo has obvious associations. I am, however, unconvinced one should be charged rather extortionate amounts on themed slow food nights to eat naturally-grown food prepared how it should naturally be anyway. Further, it suggests food on non-slow-food nights is somewhat suspect…
I've sampled "slow food" at Italy's Michelin-starred restaurants, notably in Pollenzo where Slow Food opened a University of Gastronomic Sciences. I can't say I was impacted. However, many places slowly and quietly serve slow food in Sri Lanka- often without knowing it themselves! The term Slow Food lends itself to lively interpretations, if one stops to think...
Navaratna (Taj Samudra): Technically slow food can mean food left to cook slowly, often overnight. Navaratna exemplifies timeless cooking tradition, especially now with young new Chef Afzal from Lucknow, legendary for its languorous, luxurious cuisine. Showcased at Navaratna's entrance are ethnic cooking implements imparting a taste of things to come.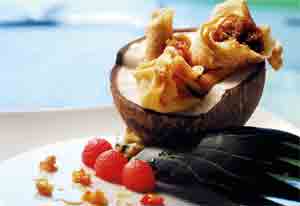 Organic without the hype: Jetwing Ayurveda Pavilion fare
The soft, slow, serenade of live musicians sets the tune for the epicurean song. Enchanting frescos of slowly processing elephants set the pace: Slow down, savour… And the food tastes better once you know its painstaking preparation.
As a prelude to the gastronomic excursion Chef Afzal explains if not slow food then slow cooking. His Lucknowi speciality Murg Avdhi Kurma with its slow marinade of curd and ginger-garlic, chicken smoked slowly on charcoal and masalas added, "One by one, slowly," simmers slowly until the colour is perfect. "Colour is very important in Indian cuisine," Chef says. Ghosh Shahi Kurma rich with almond paste, white pepper, green cardamom is cooked on a slow flame for two hours until it achieves smooth whiteness and soothing flavours. Baingan Bharta spends time in a tandoor roasting, only to be skinned and thrown from the frying pan into the fire, as it were, to reduce in butter to an unctuous puree.
Even starters like khumb ki galoti take two hours of pre-preparation so that they cannot but melt in your mouth, as a self-respecting kebab should. Head Chef Chauhan reveals their famous mutton biriyani contains an over-night marinade, cooks for one hour in a handi, baking thereafter in an oven, but that ghulab jamoon takes just too long (milk-reduction: eight hrs; lolling in sugar syrup: five hrs…) As for their sumptuous signature Dhal Navaratna- it demands six washings, boiling, slumbering in the tandoor (12 hours overnight), four hours on a slow fire after which it is creamed in butter until it attains its apothesis in a desired red-black colour, extraordinary flavour and dreamy texture. After a stupendous 20 hrs in total!
The French and Italians think they invented gastronomy. But techniques Michelin-starred chefs strive for have forever been practised around Asia. I recall in Chettinad raving about the "better-than-Michelin-Star cuisine" and asking if the chef was a Cordon Bleu and feeling quite foolish when presented a village lady who had cooked…
Navaratna's cuisine is not just "better-than-Michelin-Star cuisine" but it's better than Indian cuisine I've had in Mumbai recently. Perhaps because here the food is still prepared slowly, as it ought to be, whilst mega-moneyed Indian metropolises have lost track of tradition on the fast track. Navaratna's pricing is shockingly reasonable considering the time-consuming cooking techniques, expensive and abundant spices used and man-power required. Unsurprisingly, apart from locals, Navaratna has a massive clientele of Indian expats and tourists. When a restaurant has guests waiting to enter on a week night, it's a good restaurant. When the service is so slick it keeps no guest waiting at the table despite the crowds, it's a great restaurant. Perhaps the best.
Raja Bojun: Outdoors come indoors in trees serene under lofty ceilings and a glass-encased sea-facing façade. Curries laze longly under atmospheric thatched stalls. More significantly, Manager Mr. Sisira is confident that they alone sustain the authenticity of Sri Lankan cuisine in Colombo. Hence are lured elderly clients yearning for the traditions and recipes of yesteryear.
Further, Raja Bojun serves (and not only on "Slow Food" nights) food faithful to the Slow Food movement. Firstly, they source fish and vegetables directly from small producers renowned for those foods: Crab from Negombo, Polos from Kandy, fish ambul thiyal from Balapitiya. The latter are still slow-cooked and thickened village-style in clay pots. "We always used clay pots before," Mr. Susil says, "But now given the demands we have to speed up with stainless steel cauldrons…" Such are the constraints of life in the fast lane. However, Mr. Susil is emphatic that they use fertilizer-free vegetables, no preservatives, artificial flavouring or colouring. He also says, "People have no time to cook these difficult original recipes at home so they come to us." Take the time to go, but whilst devouring do not slow…
Jetwing Ayurveda Pavilion: Time seems to have stopped here. But unstoppable is GM Rookamanie who conceived this multi international award-winner. She is self-professedly "driven by passion," terms little associated with the reposeful, purpose-built rustic oasis comprising 12 villas and a Keralite pavilion with antique wooden chests converted into steam beds, stone sarcophagus into bathtubs... A village-like shop stacks herbs and ayurveda medicines.
Go for breakfast served on mats by the pool and presenting healthy slow-cooked, oil-free kurakkan rotis, herb breads and herbal stews. Food is also slowly presented with tags attached to each explaining their medicinal virtues. Chef Manoj says he offers no fast fried food that dissipates flavours and vitamins.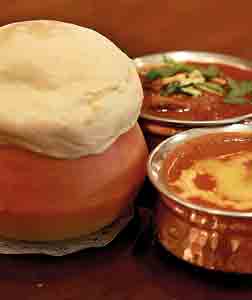 Sumptuous cuisine at Navaratna
Ayurveda Pavilion has its own herb garden and actually implements Slow Food ethics: Chef Manoj works with home-grown herbs and fruit and indigenous vegetables from villages- no supermarket fare. Further, these are vegetables slow-grown, without fertilizer.
AP spares you the ostentation of terming them "Organic" and charging more for it...). Slow Food (the movement) collaborates with IFAD (International Fund for Agricultural Development). Appositely, Ayurveda Pavilion's herb garden has just turned model for the Sri Lankan Agricultural Export Department.
An Italian chef told me "Unlike in Asia, Italy has a greater variety of vegetables and fruit." This is one of the stupidest things anyone has said to me as I'm ever discovering Sri Lanka's biodiversity. And if you cannot travel to Lankan interiors, they are brought to you at AP.
The Slow Food Movement has rather grandly created convivia whose leaders promote local artisans, local farmers, and local flavours through regional events. AP does just that without too much ado! Discover, Rookamanie recommends, over the Detox Fast Package. Ah, that f-letter word recurs….