The search for the Army Lieutenant who went missing without a trace seven years ago, ended on Tuesday this week at a public cemetery in Galgamuwa in the Anuradhapura district.
The skeletal remains of Lt. Nilantha Alwis were unearthed from a pauper's grave, where he had been buried at State expense.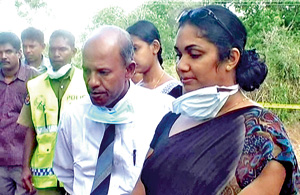 Galgamuwa Magistrate Lochana Pradeepa Abeywickrema at the site of the exhumation
Lt. Alwis, a father of two, set out from his southern home in Ahangama on January 4, 2004, to Kurunegala, to purchase a motorcycle. He had in his possession a sum of Rs. 35,000.
The soldier, attached to 11th Gemunu Watch Regiment, never returned home that day. Instead he went missing without a trace and was feared dead by family and friends.
However, seven years later, police investigating the case made a breakthrough, following the arrest of a close associate of the victim, finally leading to the public cemetery at Galgamuwa, and the remains of the missing Army officer.
Investigations revealed that the victim, who was thought to have been fatally hit by a train, since his body was discovered on a rail track, was buried at Galgamuwa, at State expense, as nobody turned up to claim the body. But now, they are looking at other angles, including murder.
"There is a possibility that the victim was mugged and later killed, and his body dumped on the rail track to suggest he was hit by a train," a senior official said. "The actual cause of death will be confirmed only at the end of a DNA test conducted by specialists at the Ragama Teaching Hospital, but for now, everything suggests foul play," he added.
Wasantha Alwis, a brother of the late soldier and a police officer, told the Sunday Times that he was able to identify the clothes worn by the victim, shown to him by the investigators. He also lashed out at the local police in his village, for their incompetence and arrogance, when the family sought assistance after the victim went missing.
"I went to the police station in Ahangama to lodge a complaint after my brother went missing, but the officer refused to accept it. One officer even suggested that we forget about it, saying that my brother may have been visiting females since he had a large sum of money, and would return home once everything was over."
This was their response to a serious complaint of a missing person, and the end result is that we are left with the skeletal remains, which should never have been the case," he added. Meanwhile, the authorities had to exhume some 15 graves, before they could find the correct one. That is because they had to check all those who were buried at State expense, at the time the officer went missing.