A family's well laid plan to rob a bank and migrate to Britain, came to a disastrous end for it, when one of the bank employees, aiding and abetting the crime, made contradictory statements to the police.
They carried out the robbery as planned at the Puttur People's Bank in Batticaloa town and got away with Rs. 3.6 million in cash and 27 kilos of gold, but were soon busted by the Criminal Investigations Department (CID).
According to police, the robbery had been planned by a family member who had already migrated to Britain, and wanting to get the rest of the family members across to London, sent the plan to his two younger brothers.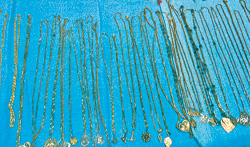 Pictures provided by the Police media of some of the gold heist and above the van that was used in the robbery
The plan was to put up a garage opposite the bank, in order to monitor the movements of the bank employees. Accordingly, they put up a garage six months ago, and monitored the movements of the staff and the bank's security arrangements.
They were able to obtain more information from a peon in the Bank, who advised them to get two uniforms similar to that worn by the security officers who transport cash, and canvas bags similar to those carried by the staff to collect cash.
He also instructed them to prepare a sticker to be displayed on the vehicle, to avoid suspicion, The would-be robbers sought the assistance of another friend to carry out the operations. They had detailed information from within the bank of movements of the staff, and were told that the bank did not have CCTV cameras or an alarm system.
Armed with this information, they hired a vehicle and set out on the mission. Posing off as bank staff, they stormed the bank at closing time, grabbed a security guard's weapon, and then broke another security guard's weapon.
Once inside the bank, they knew the exact locations of the gold items and the cash, and hence were able to collect them quickly. Soon after the robbery, the two brothers handed over the money to their parents and dispatched them to Colombo, so that they could pawn the gold jewellery to shops in Sea Street, without rousing suspicion. The couple was assisted by a former female LTTE cadre.
Following the peon's arrest and questioning, police were able to track down the female suspect in Wennappuwa, followed by the parents hiding in Colombo. Meanwhile, the two sons were trying to make a hasty escape by boat to India, and had already arrived in Mannar. They were arrested on Thursday night by the Navy, while waiting to escape.
A part of the money had already been dispatched to London. A part of the gold stolen has been recovered. The suspects have been placed under detention orders pending investigations.