Five more palmyrah plants have now sprung up on the newly carpeted highway under the government's " Supiri Ratak Sapiri Gamak" concept located in the Kalpitiya PS region.
Some time ago the media reported a single palm had sprung up on the same highway. S. Kasthuriarachchi an engineer of the Wayamba RDA who inspected the phenomenon together with his officials said, the first plant has been uprooted and taken away for observation while the new plants had been marked for investigation.
He undertook to inform the media of the outcome of his inquiry and reveal details of how the plants could have broken through the newly carpeted surface.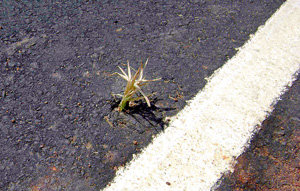 A palmyrah plant makes its way through the newly laid carpeted highway in the Kalpitiya PS region.