The Economic Trade Centre at Dambulla has been turned into a public toilet and a cess pit posing a serious health hazard to consumers who may not know what they are consuming at the end of the day.
Many users of the Market opt to ease themselves in the open, sometimes close to huge piles of vegetables --simply because they are reluctant to pay the fee of Rs. 10 to use the toilets situated inside the complex.
This week relevant authorities said enough is enough and launched a massive crack-down at the complex aimed at ridding the complex of these practices. Led by the Additional Government Agent Dambulla -A. G.
Sumanadasa- assisted by the police the group was able to catch several persons in the act of urinating inside the complex.
"I have instructed the police to produce the suspects in Court and hope they will receive stiff fines," Mr. Sumanadasa said. He said during the crackdown, gunny bags packed with fresh vegetables were found lined beside overflowing toilets and in some cases resting directly on urine spills and human waste.
Since private security at the complex had proved to be ineffective the AGA ordered police to patrol the area on a regular basis and called on local authorities to carry out awareness programes to educate complex users of health hazards such unhygienic practices could result in.
"This is a serious issue… it concerns a food chain linked to people in several parts of the country. "What happened at the Dambulla Market is deplorable and should never have happened in the first place," he said.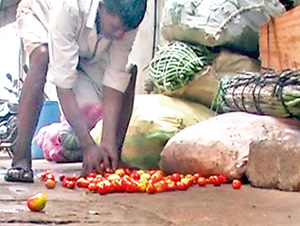 A vendor collects tomatoes which have spilled out out of a damaged bag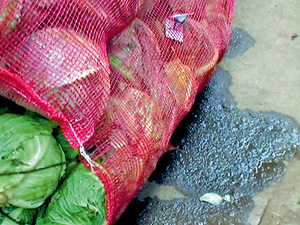 Nauseating: Bags of veges placed atop overflowing faecal matter.