US trade authorities have been urged to restore the suspended GSP trade benefits to Sri Lanka.
Director ILO Colombo Office, Donglin Li, said he made this recommendation pointing out to the US trade authorities that there is a strong labour movement in the country. He was speaking at the launch of the book "Employee Relations in Sri Lanka" by Franklin Amarasinghe, a former Director General of Employers' Federation of Ceylon (EFC) at the EFC Head office in Rajagiriya on Thursday.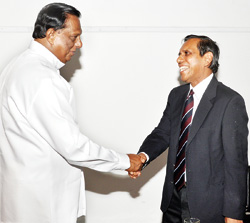 Picture shows UNP Parliamentarian John Amaratunga congratulating the author
GSP benefits which Sri Lanka is entitled to in many products excluding textiles and garments have been off the rack since December 2010 and needs to be ratified by the US Congress for a fresh term. Sri Lanka is among several countries that have been placed in this position. Mr Li said Sri Lanka is much better than other countries in the region in terms of labour rights and industrial relations and is the first in the region to ratify eight ILO Conventions.
Speaking of Mr Amarasinghe's book, he said the author has an exceptional insight and is very knowledgeable about the industrial relations and the inner relationships of human interaction. That is why ILO Bureau for Employers Activities (ACTEMP) tasked Mr Amarasinghe with developing a training manual of Workplace Conflict Management, which guides enterprises around the world in finding innovative solutions for avoiding workplace conflicts.
He said that Mr Amarasinghe's new book andhis other books "conflict at Work" and "Mediation in the Workplace" would contribute immensely to the world of work in building good industrial relations.
The author, sharing his long and rich experience in employee and employer relations, said that laws are the norms fixed by the society to protect the common interests of the people and are not a deterrent. But he said that in many developing countries including Sri Lanka, there is a tendency to look at laws as a constraint.
He said that laws must be introduced after consultation with the stakeholders in order to make compliance more likely. He also pointed out that laws need to be reviewed constantly to match the requirements of a fast evolving society. "We do have a continuous evaluation of the law through a Law Commission but unfortunately, the final authority lies with Parliament. The need for a strong voice of the social partners is imperative," Mr Amarasinghe said.
He noted that it would help not only to bring about laws which are desirable, but also which are pragmatic enough to be successfully implemented. "It is not by flogging people, incarcerating them, imposing punitive payments; or threatening to do so, that compliance should be extracted. We need to appeal to their good sense to respect the laws because that is the best way of preventing anarchy," Mr Amarasinghe pointed out.
He said that laws are required for good order, protection of property, persons and human dignity. He said that they in addition need appropriate institutions to ensure that the laws are applied equitably and with certainty. He said that in his book he has mentioned three interventions by the highest court in the field of employee relations. In one matter, the courts intervened to enforce rules of natural justice so as to avoid arbitrariness by the authorities, which was possible under the strict letter of the law.