A 3 day East Expo-2011 exhibition is to be held in Trincomalee from September 2 to 4 under the auspices of the Eastern Provincial Ministry of Agriculture, Animal Production and Development, Rural Industries and Fisheries.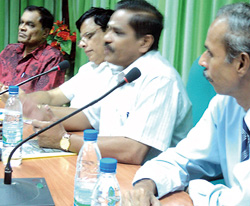 Picture shows Provincial Minister Navaratnarajah speaking at the briefing accompanied by Chief Secretary V. P. Balasingham, Provincial Ministry Secretary K. Pathmanathan and Governor's Secretary P.Udage.
"The vision of the exhibition is to improve the standard of life of the people in the eastern province through opportunities to people involved in agriculture, animal husbandry, fisheries and industries to learn and apply modern technologies and equipment to uplift their declined economy, "said Provincial Minister Dr.T.Navaratnarajah at an introductory briefing held in the Eastern Provincial Secretariat in Trincomalee recently.
He added the proposed East Expo-2011 is exclusively a trade fair. It is multi cultural and multi-lingual. It also caters for Sri Lanka's plural economy.
The mission of the project is to provide awareness to those who are engaged in agriculture, livestock development, fisheries and industries on the new technologies, modern equipment and services relevant to their respective fields through creating an opportunity to learn new technologies, see modern equipment and understand new services in order to encourage them to utilize the new trends to enhance their livelihood and standard of life, he added.