Ms. Chandra Rajapaksa Ellawala has been appointed as the new President of the Association of Corporate Lawyers Sri Lanka for the years 2011/2012.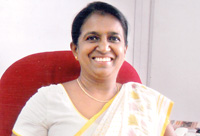 Chandra Rajapaksa Ellawala
A founder member and an active member of the Executive Committee who held the position of Vice President for so many years, she is a Senior Attorney at Law who has trained in the chambers of Arthur Samarasekara, Presidents' Counsel and joined public sector in 1982.
In 2008 she joined the Human Rights Commission of Sri Lanka as the Secretary to the Commission and left the Commission in early May 2011 and joined the private sector. She had participated and represented Sri Lanka in several international conferences and seminars.