Some tourism industry stakeholders are disappointed that post-war expectations and investment hype has fallen short of its expectation and are calling for a 'game changer' to transform the business climate in Sri Lanka.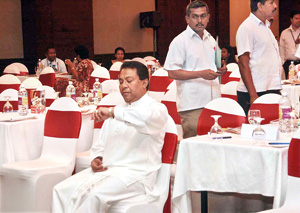 Higher Education Minister S.B. Dissanayake checks the time amidst a row of empty seats at the economic summit. He had arrived at tea time for a panel discussion. Pic by J. Weerasekera
Game changer
"We need one game changer, maybe a Shangri-La which will be a catalyst to change the investment climate in the country. I am personally disappointed (that the climate hasn't taken off)," said Susantha Ratnayaka, Chairman John Keells Holdings who was a session panellist at a high profile business forum recently as a response to a question on the level of (his) satisfaction pertaining to the investment blitzkrieg which was expected after the war ceased.
Rajan Britto, Deputy Chairman Aitken Spence, who was also a panellist at the same session titled "Attracting investments: The ease of doing business" was of the same sentiments at the Ceylon Chamber of Commerce Sri Lanka Economic Summit 2011 on "Driving Growth through Fast Track Implementation" this week.
When queried if he had issues when dealing with state agencies, Mr. Ratnayaka replied that if one has a sense of humour, then it's easier to deal with these agencies, drawing laughter from the crowd. He added that he is comfortable with dealing with state agencies and that he has had no issues.
Mr. Britto said that investors are worried about Supreme Court judgments (relating to those in the past three years where privatised state companies were returned to state ownership due to corruption in the deals). "Also settlements of disputes take a long time, which is a concern," he added.
Full toss
Former Director Economic Affairs, Commonwealth Secretariat, Dr Indrajith Coomaraswamy presenting on Macro-Economic and Policy Environment required for attracting investments said that history has bowled a full toss on the leg side for Sri Lanka and the decisive factor is whether it should be sent dribbling on the ground or strike it for a 'four' or a 'six.
The economist, a former Sri Lanka rugby captain and also a cricketer, said that the budget deficit impact on the investment climate happens through many channels and when it happens through inflation escalation, it infiltrates the debt position. "An unsustainable budget deficit fuels inflation, making business decisions problematic," he added.
While maintaining that corruption is unacceptable, he also reiterated that there's no country with zero corruption. "It must be handled so that it won't be high," he said. He also noted that the 'predictability' and the consistency of corruption should be maintained. Dr. Coomaraswamy also noted that investors are concerned about the uncertainty of politics and policy. "The lack of independence in regulatory agencies has also impacted on attracting investment," he added. He also said that Sri Lanka could go for an IMF 'staff monitored' programme once the IMF Stand by Arrangement facility ends this December without actually increasing borrowing so that the country could benefit from regular performance reviews.
Certificate of attraction
Central Bank Governor, Nivard Cabraal in his keynote highlighted what investors look for when deciding to invest in a country saying that factors such as an enabling environment, macro economic fundamentals, infrastructure, markets, taxation and political stability are top amongst the list. He noted the government's ambitious target of boosting Sri Lanka to number 30 position in the ease of doing business index within the next three years from its current 102 place. "This is the (country's) certificate that goes to the rest of the world," he added. Mr. Cabraal also said that nine years ago Sri Lanka's debt to GDP ratio was 102%, but now it's below 80%. "As much as Rs 25 to 30 billion loans are granted by commercial banks today while our reserves are at Rs 7 billion. Many countries will give an arm and a leg to post such macro economic fundamentals," he said.
IMF Resident Representative for Sri Lanka and Maldives Dr. Koshy Mathai highlighted the importance of financing long term loans through equity and debt markets. "Corporate debt is low in this country and it's important to boost this market," he added.
Attractive vs attraction
Just because a destination has many attractions, doesn't mean it's attractive, but there's a host of other underlining things to do to make it attractive, and supporting services are needed to build the attractiveness of the destination, 'Dileep Mudadeniya, head of Standards Quality Assurance and Investment, said during the session on tourism. He emphasized that brand building of the destination, therefore takes centre stage.
Addressing the gathering SLT Chairman Dr. Nalaka Godahewa said that during the past six months 114 investment application projects were received by the SLT while 36 projects saw final approval being granted. He told the Business Times on the sidelines of the summit that the Sri Lanka Tourism Development Authority (SLTDA) is moving away from the original plan of managing large projects like Kalpitiya /Passikudah /Kuchchaveli/Deduwa etc. "Now the investors are given a greater freedom and flexibility through the new land alienation policy of 99-year lease and transparent upfront payment," he said.
Nearly 1,750 hotel rooms are under construction currently at various parts of the country, 1500 hotel rooms are to be refurbished during 2011, according to him and now SLTDA encourages private investors to undertake providing common infrastructure such as sewerage, water, etc for large projects.
He added that the Hotel School is developing a franchising model and will be inviting a greater participation of the private sectors. Amongst ways to attracting more tourists, he said that the Civil Aviation is relaxing rules and will allow greater participation of the private sector in that industry. "The Sri Lanka tourism website is redesigned to help any willing service provider to make use of it for marketing purposes."
Regulation re-haul
Dr Godahewa also said that the SLTDA is gearing to bring changes into rules pertaining to Adventure Sports Centers, Apartment Hotels, Camping Sites, Cruise Liners/Luxury Vessels, Eco Lodges, Elephant Safari, Guest Houses, House Boats, Home Stay Units, Boutique Hotels & Villas, Ayurvedic Hotels/Centers, Professional Events Organizer, Restaurants, Safari Tours by Vehicles, Spa and Wellness Centers, Spice Gardens, Tourist Hotels, Tourist Shops, Travel Agencies, Whale and Dolphin Watching. "Our approaches to sustainable tourism development will give greater priority to community participation and environment protection," he said, noting that tourism should create economic value and help raising the overall living standards of the society.
"We should manage tourism development carefully to avoid any negative impact on our environment," he said, highlighting that a collective campaign with all related agencies has to drive Sri Lanka Tourism promotions.
Hotels, golf courses, race courses, water parks, theme parks, water parks, theme parks, marinas, shopping malls, taxi services, entertainment studios, adventure sports facilities, light aircraft services/sea planes, boat manufacturing/boat hiring, convention/exhibition centers and educational institutes are areas that are potential investment areas according to him.
Madhu Rao – Executive Director and Chief Financial Officer, Shangri-La Asia Ltd during the panel discussion noted that a room rate standard is imperative. "If we don't align with a room rate we might as well forget about (promoting the product/ hotels)," he stressed.