Lanka ORIX Leasing Company PLC (LOLC) will be issuing unsecured listed debentures upto a value of Rs. 1 billion and a further unlisted debenture of Rs. 500 million. The managers to the issue will be First Capital Ltd, while the trustee will be Bank of Ceylon, the company said in a statement.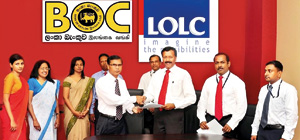 Picture shows the Trustee Deed for the issuing of listed debentures being presented. From left (back row) - Ms. Thanuja Jayawardene, Senior Associate, Nithya Partners; Ms. Chrishanthi Emmanuel, Company Secretary, LOLC; Ms. Darshini de Silva, Senior Manager, Corporate Finance, First Capital Ltd; Chandima Desinghe, Head of Capital Markets and Fund Management, First Capital Ltd; and W. Y. Bandula, Chief Manager – Investments, Bank of Ceylon. (Front Row): P. A. Lionel, DGM – Investment Banking, Bank of Ceylon; Kapila Jayawardena, Group Managing Director/CEO, LOLC; Rohan Perera, Group Treasurer, LOLC; and Sanjaya Kalidasa, Manager – Treasury, LOLC.
These Senior, Unsecured, Redeemable, Rated Debentures will be for tenures of 4 and 5 years and will carry semi annual interest coupons of 11.70% and 11.90%, respectively. These debentures have been assigned a national long term rating of A- (lka) by Fitch Ratings (Lanka) Ltd. The rating of A- indicates LOLC's high credit quality and strong payment capacity of financial commitments.
"The funds raised through the debenture will be utilized to retire part of the company's short-term debt, thereby better aligning the maturity profile of LOLC's assets and liabilities and further strengthening the balance sheet structure of the company. In addition to the current issue, LOLC as an innovative group of companies is also planning to issue listed debentures, open for international investors as well. This will enable LOLC to access a wider pool of funds, taking into consideration the strong relationship that LOLC maintains with its foreign funding partners and investment funds," it said.