It is just parippu, fish and bonchi with rice, not even home-cooked but prepared in a hospital kitchen……..but for 56-year-old L.D. Wimalawathi from Paragastota, close to Bandaragama it is a meal fit for royalty.
Bayai, she says, as she mixes a little bit of rice and parippu and gingerly places a morsel in her mouth. Fearful she is because it is a very long time since she had a meal of rice and curry – 33 years to be exact.
Her agony of "starvation" began as a 23-year-old very much in love with a young man in the neighbourhood. There was a tiny problem – her parents were unhappy about the affair and there was unpleasantness at home. In the foolishness and anger of youth, Wimalawathi "drank acid". Her so-called solution was much worse than the trouble she had faced at home. Rushed to hospital, she underwent agonizing treatment for more than a month.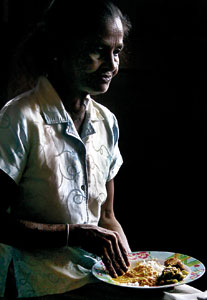 Wimalawathi: Wary of her first solid meal. Pic by M.A. Pushpa Kumara
It was one small gulp but it left her insides fully burnt, unable to eat solid food and dooming her to a liquid diet, even that a few sips at a time. Wimalawathi did marry her sweetheart and even at the wedding feast while everyone enjoyed the sumptuous lunch she sat in her fine clothes pushing the rice and curry around her plate.
Ana, ana, eheta mehata buth thallu kara kara hitiya, says Wimalawathi, explaining that she kept mixing the rice and curry and pushing it around on her plate. Although her groom knew of her plight, her in-laws did not.
The usual routine took up their lives after the marriage. Still on a liquid diet of milk or samaposha, she bore two sons. Even after everything that she had sacrificed for this marriage, her husband left her for another woman when the boys were 12 and 15 years old.
Determined to bring them up, Wimalawathi then sought a job, facing the rigours of "garment work" armed only with biscuits and milk or water. While the other women ate rice and curry, she would surreptitiously dip a biscuit in the milk or water, put the soggy food into her mouth and swallow it with difficulty.
In February 2011 she sought treatment at the Kalubowila Hospital as she had to struggle to swallow even her liquid diet and it was here that a doctor suggested that she go to the Sri Jayewardenepura Hospital where there was a surgeon who was very skilled at putting right such problems.
To Sri Jayewardenepura Hospital she did come. Having got herself admitted to Ward 8 of Consultant Surgeon Dr. Gamini Goonetilleke doubts assailed her. Her sons who were ill-educated and living for the day would not be able to pay the bills at the hospital. She too did not have the wherewithal, for they had been told before admission that not even a panadol peththa was given free here.
As evening fell, she called one of her sons and told them she was coming home. She packed up her few clothes and told a nurse that she wanted to get discharged. The nurse quickly called Dr. Goonetilleke who through the nurse assured her "not to worry" about the money.
What Wimalawathi did not know was that knowing the financial straits that many of those who came to hospital such as housemaids from the Middle East, burnt and beaten without a cent, Dr. Goonetilleke had on his own begun a fund to help them pay the hospital bill.
On March 31, Wimalawathi underwent major surgery lasting four hours (see box), after which she was in the Intensive Care Unit for a week. It was also that Wednesday, that the Sunday Times met her when she came for an endoscopy to make sure that everything was okay and the food passage was intact from the pharynx to the small bowel and she could eat again.
It was also last Thursday, after 33 long years, that she took a mouthful of rice and parippu, relishing and savouring every grain. "She has to develop coordination once again to swallow solids," says Dr. Goonetilleke embarrassed as Wimalawathi and her younger son, fall at his feet in gratitude after her rice and curry meal.
What they did for Wimalawathi
Wimalawathi's oesophagus was burnt so severely that it had narrowed and solid food could not be swallowed, the Sunday Times understands.
What happened under the skilful hands of Dr. Goonetilleke is that the burnt or diseased oesophagus was removed surgically and a new food passage constructed connecting the pharynx to the small bowel.
A fund for similar cases
Those who wish to help Dr. Gamini Goonetilleke's Fund to pay off the medical bills and other expenses of hapless souls such as Wimalawathi, may send in their contributions to: The Hatton National Bank (Kotte branch) Savings Account No. 036020047158.