The Bodhisattva as Prince Siddhartha, after many years of preparation in samsara to gain enlightenment, sat in deep meditation in a dyana mudara, on a Vajirasana in the month of May at Gaya, under a Pipal (Bo) tree. He had gained perfection and the stage was set for His enlightenment. That was exactly 2600 years ago today.
Shortly before the Buddha's enlightenment, seated in a dyana mudra facing east He made a mighty resolution, "Let my skin and bones become dry and welcome! ..and let all flesh and blood in my body dry up!.. But never from this seat will I stir, until I have attained the supreme and absolute wisdom!"
The Bodhisattva sat cross-legged, in an unconquerable position, from which not even the descent of a thousand thunderbolts at once could have dislodged Him. Then Mara (The Evil One), sovereign of passions and personification of death, also a tempting demon exclaimed, "Prince Siddhartha is desirous of passing beyond my control, but I will not allow it!"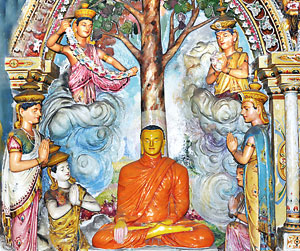 The Enlightenment as depicted at the Subadhraramaya in Nugegoda.
The great fight with Mara then took place, when there were caused storms of wind, showers of sand, showers of weapons in which spears, swords and arrows flew through the sky. Mara also caused showers of coals, red hot, hot ashes and mud to drive away the Buddha.
He finally brought his beautiful daughters, Thirst (Desire), Joy (Tenderness) and Delight (Raga) to sing and dance before the Buddha, hoping to seduce Him and break His Jhana,... but failed. He, without even turning His head to see them, dismissed them, and instantly they turned into old women! Mara then commanded, "Siddhartha, arise from your seat. It does not belong to you, but to me."
When the Great Being heard this, He said to Mara, "you have not fulfilled the Ten Perfections, Nor Have You Made Five Great Donations, (i.e. gift of treasure, gift of child, gift of wife (Vessantara Jataka), gift of royal rule, an gift of life (Sasa Jataka) and of limb, nor have you striven for knowledge, nor for welfare of the world, nor for Enlightenment. This seat does not belong to you, but to me." The conversation with Mara continued, whence Mara questioned, "Siddhartha, who is witness to your having given these donations"?
"Your witnesses," replied the Bodhisattva, "are animate beings, and I have no animate witnesses present. However, not to mention the donations which I gave in other existences, the great seven hundred fold donation which I gave in my Vessantara existence, shall now be testified by the solid earth inanimate though she be." And drawing forth His right hand from beneath His priestly garb, He stretched it towards the mighty earth until the tips of His fingers touched the earth in (Bhumishparsha mudra) and said, "Are you witness, or are you not to my having given a great seven-hundred fold donation in my Vessantara existence"? And then, the mighty earth thundered, "I bear witness to you!" The earth then quaked and Mara ran away in fear.
The story continues, "Then the hosts of gods, when they saw the array of Mara flee, cried out, "Mara is defeated, Prince Siddhartha has conquered; let us go and celebrate the victory!" On that happy occasion, the enlightened Buddha uttered in Magadhi (Pali) - as translated by English scholar Lord Chalmers:
"Through birth and rebirth endless rounds
Seeking in vain I hastened on
To find who framed this edifice
What misery, birth incessantly
O builder, I have discovered thee
This fabric thou shall never build
The rafters are broken now
The ridge pole lies demolished
This mind has demolition reached
And seen the last of all desire."
* The human personality
Theistic religions speak of God the creator who was responsible for happiness and the good in mankind; also for sufferings of man and animals in many faceted ways. Sakyamuni Gotama Buddha was not a creator God. As a Bodhisattva His mission in life was to "show the way", how to end all forms of suffering on earth. Addressing the five ascetics (at Saranath) who were his first disciples he said :-
"This O monks is the noble truth of suffering.
Birth is suffering, old age is suffering, pain of mind is suffering, death is suffering, loss of wealth is suffering, association with the unpleasant (people) is suffering, disassociation from the beloved is suffering, (when) one does not receive what is desired and / or is due (that) is suffering, in short the five fold clinging to craving / attachment is suffering."
On that day, He propounded the Eightfold Noble Path that leads to the complete cessation of craving; the law of Dependent Origination, the extinction of ignorance (avijja), the extinction of Kamma formations, the extinction of consciousness (after physical death) the extinction of craving that leads to rebirth etc. and the path to Nibbana.
The Buddha Dharma does not rely on miracles. It is rational in outlook. The religion was preached for over 40 years and the Kalama Sutta was the cornerstone of Buddhist philosophy, that has withstood several attempts by rulers of ancient India (Shivaji and Akbar the Great) to wipe out the religion from India.