Buddhist Pirith Chanting Rituals, Mahavamsa, Legends Of Indian Buddhism , 336 Readings From Buddhism, The Chinese Version of Dhammapada, Buddhist Meditation Theory and Practice…these are a few of the nearly 10,000 titles of noble Buddhist literature visitors can find at the Sambuddhathva Jayanthi Mandiraya.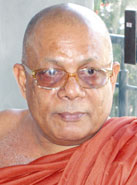 Ven. Kirama Wimalajothi Thera
The world's largest Buddhist publications and information centre, the Sambuddhathva Jayanthi Mandiraya located at No 32, Havelock Road (to be renamed as Sambuddhathva Jayanthi Mawatha) will be declared open today.
This massive 16-storeyed building which holds an auditorium, information centre, language centre, audio- visual recording room and separate unit for research and missionary activities, is an initiative by the Buddhist Cultural Centre in Nedimala, Dehiwala to commemorate the 'Sri Sambuddhathva Jayanthi' which marks 2600 years of Lord Buddha's Enlightenment.
Director of the Buddhist Cultural Centre, Nedimala, Ven. Kirama Wimalajothi Thera, said the objective of this centre is to provide better facilities and services to the public here and abroad and as the motto inscribed on the wall of the Mandiraya reads, to take; 'Buddhism from generation to generation.'
"It was 2600 years back on the day of the Lord Buddha's Enlightenment that the birth of Dhamma took place. Sri Lanka has preserved this Dhamma (the noble teachings of Lord Buddha) for 2600 years. The Buddhist Cultural Centre has also been involved in spreading the message of Buddhism across the globe by way of publishing and preserving many Buddhist books and literature," the Thera said.
The range of books found at the centre includes books on meditation, psychology, comparative religion, Tripitaka, commentaries, among other valuable literature in Sinhala, English, Pali, and several languages. The collection also comprises Buddhist books for school and university students – including special publications for those studying at international schools. To inculcate social and moral values in the youth in order to build a just society is yet another objective of the project, according to the Ven. Thera.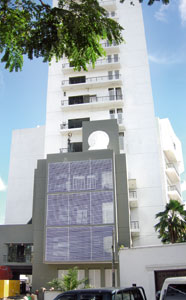 Imposing centre: The Sambuddhathva Jayanthi Mandiraya
The auditorium with a seating capacity for 500 will be utilized to hold various cultural activities related to Buddhism. International dramas and shows from countries such as Burma, China, Korea and Taiwan will be organized here to promote youth education. The Dhamma Research Centre will facilitate activities of scholars including those coming from abroad for their higher studies while a language laboratory will facilitate the study of various languages such as Pali, Sanskrit etc.
A counselling centre will be set up to conduct counselling sessions for the elderly, adults, and school children. Meditation sessions will also be conducted. Those visiting the centre could listen to recordings of Buddhist sermons at the audio-visual studios. Accommodation facilities for Buddhist monks coming to Sri Lanka from overseas will also be arranged at a separate unit attached to the centre.
The spacious and tranquil open areas with serene Buddha statutes and pagodas built in small corners on different floors will provide room for meditation, dhamma discussions, pirith chanting or poojas. For those who wish to purchase Buddhist souvenirs, various items such as posters, small Buddha statutes, ornaments and post cards will be available.
Built at a cost of Rs. 350 million on a state donated land– with funds collected through various means from foreign and local donors to fundraisers, loans and his personal funds, 80% of the project which was initiated about 10 months back has now been completed, says Ven. Wimalajothi Thero who proudly announces the official opening of the building to commemorate the Buddha Jayanthi. This will take place immediately after the Sambuddhathva Jayanthi Mawatha is declared open at 8.30 a.m. today, the Thera said adding that the name Bauddhaloka Mawatha was given to Buller's Road during celebrations to mark 2500 years of Lord Buddha's passing away.
In the afternoon there will be a special procession of 2600 school students from the Western Province with their oriental bands, accompanied by university students, wending their way down the newly opened road carrying slogans promoting peace, unity and harmony in the country. A pirith chanting ceremony will also take place in the building at night.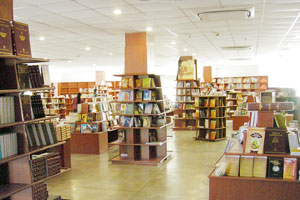 A range of Buddhist books housed at the centre.