The full moon on this Vesak day, so serene,
Shone brightly, casting its mellowed golden beams
Over the sylvan garden at Lumbini
The ideal place for solace and peace.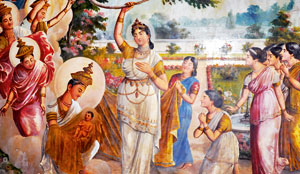 The birth of Prince Siddhartha as depicted in the painting by M. Sarlis at the Isipathana temple in Colombo
To the melodious songs of birds and dancing trees
The fragrance of flowers scenting the breeze
Beautiful Mahamaya Devi, King Suddhodhana's Queen
With her retinue rested here, enjoyed the peace.
This day we should reverently remember
Mahamaya Devi, the Queen Mother
To whom a prince was born, named Siddhartha
Who enunciated the Eight-fold Path to attain Nibbana
His knowledge of life was so boundlessly vast
None could equal nor ever surpass
Ending suffering in Sansara, He found at last
And attained Buddhahood and showed us the path.
Let us on this eventful day remember
With gratitude and bow in prayer
To that Mother who gifted a Noble Teacher
To the world He preached the Dhamma
As done in our homes, worship and adore
Our mothers who bore hardships untold
Let us not forget to say the same prayer
To Mahamaya Devi, the mother of the Greatest Being ever born
"Dassa Masa urekathwa, Posethi Uddhi Karanang
Ayu deegan vassa sathan, mathu padang Nama Mahang"