The fishing industry in the Puttalam area is in the doldrums currently. Fishermen complain that everything from fishing gear to the environment here is being destroyed. This problem is being faced by around 25,000 fishermen in Kalpitiya, Kandakuliya and Battalangunduwa, their spokesman Anton Rex said.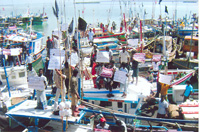 Kalpitiya fishermen hold a protest atop their deep- sea fishing boats
"The crisis involving the multi-day boats has now reached a climax. There are about 64 multi-day boats which generally go fishing for about three weeks at a stretch costing around Rs. 250,000 per trip. These boats are bought on bank loans and to meet the bank instalment repayments at least 3,000 kilos of fish must be caught. Today they do not go deep sea fishing as it does not yield a good harvest," he said. Boat owner Lucian Fernando of Kandakuliya had this to say.
"I have three boats but I do not send a single one out as about 500 Indian trawlers are poaching in our seas. Our boats are environment-friendly as against the Indian equipment which is harmful. Ronald Reagan, secretary of the Battalagunduwa fising society said the Indian trawlers are a threat to the small boats. They make inroads into our waters which has made us destitute. Our daily expenses on petrol are around Rs. 4,000, he said.
Clarence Fernando, treasurer of a fishing society said Indian trawlers ignore the orders of the Navy not to poach. Another said that he has yet to see our Navy driving the Indians out. When a high official of the Navy was asked for his comments he said the Navy chases away the intruders when they are sighted.
Herman Kumara the convenor of the world fishermen's forum said Indian fishermen from Rameshwaram, Pudukottai and Nagapattinam come fishing here and make inroads into our resources. They use illegal equipment and fishing gear while trespassing on our territorial waters. There are laws governing deep sea fishing, he said.