Tomato farmers in Dambulla had their Avurudu hopes dashed when they found a large quantity of tomatoes had been illegally imported into the country last week. The Dambulla police revealed Indian tomatoes were being sold at the Dambulla Economic Centre as locally grown varieties,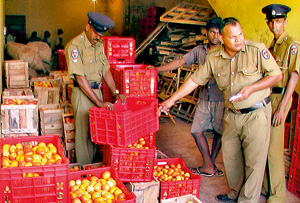 Indian tomatoes being sold at a cheaper price
Local farmers were naturally discouraged as the cheaper imported varieties brought down the price of their products. Farmers complained Indian suppliers had made inroads into the local market with stocks of imported green chillies and pumpkins as well.
It is said even Malaysian products have entered the Dambulla market and were being sold at cheaper rates than local products. For instance while locally grown tomatoes were being sold at prices ranging between Rs. 100 to Rs. 120, the imported varieties were being sold at Rs. 60.
Not unexpectedly the local product has no takers. Farmers complained that despite the Minister of Co-operatives claim in Parliament that tomatoes would not be imported, the reverse was true.
U.R. Dayanandasiri, President of the Dambulla Economic Centre said the society objected to the importing of vegetables as the practice hurt local farmers. He added the importation was illegal and needed to be investigated.