Expect further increases in fuel and gas, as well as consumer goods, warns economist Dr. Sirimal Abeyratne. The most recent fuel price increases occurred on April 1, the day before the World Cup finals: a litre of 90 Octane petrol went up by Rs. 10, auto diesel by Rs. 3, and kerosene by Rs. 10. Litro and Laugfs raised the price of their 12.5 kg gas cylinders by Rs. 238. Current prices are Rs. 125 for a litre of 90 Octane petrol; Rs. 76 for auto diesel, and Rs. 61 for kerosene. Litro and Laugfs sell a 12.5-kg gas cylinder for Rs. 1,890.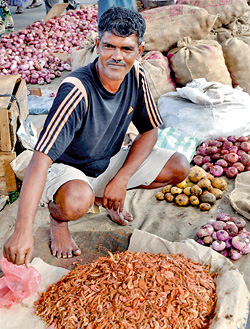 Day-wage earners hardest hit, says vendor Sudath. Pic by Mangala Weerasekera
The fuel price increases are felt by different consumer groups."The low-income groups are directly affected by the new kerosene prices, while the working class is affected by the new fuel and gas prices," said Dr. Abeyratne, who teaches economics at the University of Colombo. "Only a quarter of the population uses gas. The global oil crisis will directly affect Sri Lanka. We are totally dependent on fuel and gas imports. And you can be sure that prices will continue to go up."
Diesel was sold at a subsidised rate, but the subsidy was misused by owners of private and luxury vehicles, while public transportation did not benefit from the subsidy.
"Although 7.6 per cent of the population is considered poor, recipients of Samurdhi state grants represent 33 per cent of the population. Sri Lanka cannot influence world markets, but we can bring down fuel refining and distribution costs. The state should provide alternatives so the public is not hit by unjustifiable state expenditure," Dr. Abeyratne said. Meanwhile, the man in the street looking to satisfy pangs of hunger is paying more for such food items as koththu, paraata, hoppers, buns and cakes. However, the All Ceylon Bakery Owners' Association has not officially increased the price of a 450 gram loaf of bread.
Rs. 10 paratas are now selling for Rs. 12, and Rs. 12 paratas are selling for Rs. 15. A hopper has gone up from Rs. 10 to Rs. 12 in eateries catering to the working population. Lunch packets have gone up by Rs. 10. Koththu, the mealtime favourite, has gone by between Rs. 10 and Rs. 20. Fish buns, pastries and short-eats have gone up by between Re. 1 to Rs. 5.
"We cannot sell bread for more than Rs. 50 a loaf because consumers will stop buying bread," said All Ceylon Bakery Owners' Association president M. K. Jayawardena. "Bakeries are running at a loss, but if the price of flour goes up we may be forced to sell at more than Rs. 50."
Meanwhile, private bus owners are mulling prices, and expect to make a decision by the end of this month. "Bus fares have been level since September 2009, but we may be compelled to increase fares because there's no fuel subsidy for the public transport service," said Private Bus Owners' Association president Gemunu Wijeyaratne. "Many developing countries have a subsidy for public transport services."
Mr. Wijeyaratne said public transport is used by only 20 per cent of the country's total diesel consumption, although 80 per cent of the population depends on public transport. The increased gas prices have badly hit the average family, and many housewives have been forced to find part-time jobs to meet the extra cost of running a home.
"Rather than protesting, we should be looking for ways to bring in the extra rupees, as the cost of goods and services will continue to stay high," Sri Lanka Housewives' Association president Rene Ismail told the Sunday Times. "The government should give women entrepreneurs some form of financial assistance to start their businesses."
M. Habib-ul-lah is the manager of a grocery store in Colombo. He said prices of goods automatically go up when fuel prices increase. "If transportation costs increase, we will have to raise the prices of our goods as well. Vegetable prices might go up, because they are brought in from various parts of the country. If there is an increase, it will be after the Sinhala-Tamil New Year," he said.
Old Moor Street Traders' Association president Palaniyandhi Sundaram said wholesale prices would remain unchanged while stocks last. "Retail prices may increase, but only if transport expenses go up," he said.
Sudath Dharmasiri, who has worked as a vendor in the Pettah for the past 27 years, said day-wage earners were the group hardest hit by the price increases. K. H. Wijesiri, a civil servant living in Battaramulla, observed that foodstuffs have gone up in price, buy not dry rations.
"People are out New Year shopping and they are eating outside, and paying more for everything, from a cup of tea to a bun. They may not notice it now, but they will after the New Year." R. Sridharan, a businessman in Gunasinghepura, Pettah, said the fuel price increase will start to influence retail prices in the next few weeks. "A householder spending Rs. 5,000 on groceries this month will be spending Rs. 8,000 on the same goods next month. The cost of living is going up steadily," he said.