On Thursday, (April 14), co-incidentally, Avurudu day, a special auction devoted exclusively to a collection of 64 Sri Lankan bank notes is to be held in London by the reputed firm Spink.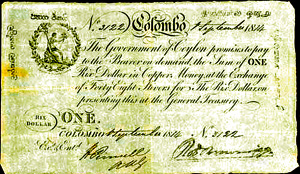 A Ceylon rix dollar
These notes are likely to include most of the known 19th century Ceylon banknotes. The estimated cost of the full collection is Sterling Pounds 150,000 or Rs. 27 Million, which collectors say is something that the Government of Sri Lanka needs to invest in as part of the country's national heritage. "The price could be higher as these estimates are given to encourage bids from collectors," they say adding that "the government must move in and make these available for public display in a museum".
The first currency note for Ceylon was issued in 1785. All bank notes before 1885 have been hand signed because there were so few issued. Collectors feel that some notes have only one or two in existence and that neither the Central Bank, the National Museum collection or the British Museum have them.
A well illustrated catalog can be downloaded from http://www.spink.com/auctions/pdf/11021.pdf.
The collection includes one and two rix dollar Colombo Treasury currency notes from 1814-1823 era, notes from the Mercantile Bank of India, London and China, before and after it got its charter in 1857 and lost it in 1892, the Asiatic Banking Corporation, with branches in Colombo and Kandy which was founded in 1864 and liquidated in 1866 and the Oriental Bank Corporation chartered in 1851 and failed in 1883.