The commemoration of Charles Henry de Soysa's 175th birth anniversary fell on March 3. It would have been commemorated as usual by his descendants and the hospitals, and schools he built for the nation. The students and staff; both past and present of both Prince and Princess of Wales Colleges always remember and revere their founder who did his best to ensure that the youth of his hometown would have the priceless gift of a good education. His unsurpassed record of philanthropy; reaching out to the landless, the homeless, fields of education and health all prove that he was a visionary far ahead of his time.
Today, we live in a divided country. in an era of natural disasters like floods and manmade ones like plunder, rape, abduction, murder and violence. There exists a desire for conquest, an urge for conflict and we seem to be dismal failures at conflict resolution. Cruelty to man by man is experienced daily and this escalates into collective competitiveness, selfishness, spite and greed. Drug smuggling, arms dealing, and people trafficking all prevail today. The fruits of the war victory are yet to reach the people and the majority has not yet learned to be magnanimous.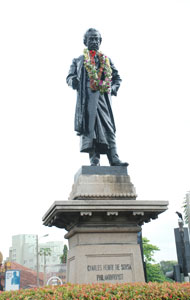 The statue of Charles Henry de Soysa
What would our revered ancestor have thought of the world we live in today? I have no doubt that he would have reached out to his fellow beings in distress and done what he could; using his own resources to give them relief. Nurtured in discipline and Christian principles, he thought of service to the community, and to the individual; purely in terms of human need.
As his great granddaughter, I look back on Charles Henry's example as an inspiration; with a great deal of pride. It is interesting to note that his philanthropy was mainly in the fields of religion, agriculture, education and health. His era, although infinitely more genteel and refined than ours, was a time when bias and prejudice dominated most minds.
But narrow peripheries were simply non existent in him and he reached out to whoever was in need; irrespective of caste, race or creed or whether his help was appreciated, misunderstood or misinterpreted. This record is still unparalleled.
Great Grandpa Charles Henry was reputed to be the wealthiest Ceylonese of his time; who lived in an era of gracious living, elegance, gentility, peace and contentment. He inherited wealth, which he worked hard to increase although he could have lived in an ivory tower; serene, inviolable and far removed from less fortunate beings and reality.
His business acumen and astuteness took him into new fields and he was one of the first Ceylonese to venture into planting coffee and tea. The coffee crash did not affect him as all his eggs were not in one basket. He owned 74 plantations and several valuable residential properties. His success enabled him to ship his own tea to markets abroad. He was the first Ceylonese Banker and a Founder member of the Ceylon National Congress.
As descendants of this great man, we are reminded of him almost daily. His statue stands tall and erect at De Soysa Circus; many roads that we live on are named after him as he once owned the land these roads stand on. Alfred Place, Alfred House Gardens, Charles Place, Charles Way, Charles Circus are among these. There are still standing some beautiful houses which once were his or built by his sons on land given to them by him. Lakshmigiri, Samanela [which now houses The British Council] College House, 'Morven', the Deaf and Blind School Ratmalana, Ward 8 of The De Soysa Hospital for Women, which is part of the original Hospital donated by him to the country. The Golf Club, N'Eliya and a Clubhouse in Kandy. It is up to us to do what we can to see that these beautiful old houses are maintained and not pulled down. They are national treasures.
The MRI was gifted by the De Soysas to the nation, as were the Hospitals of Lunawa, Panadura and Marawila. He gifted several acres to the government to build Alfred Model Farm. This area has been sold and named Model Farm Road. It is sad that what remains of palatial and historic Alfred House no longer belongs to the family.
My father once wrote that his grandfather's life read like an incredible fairytale. I recall that as a child I would never tire of hearing about his banquet for the then Prince of Wales when he visited our country. I was told that the entertainment provided that night were three separate items in all three languages; English, Sinhala and Tamil which again proved his vision far ahead of his time.. He never sought publicity or fame for his generosity, unlike the present when much fanfare and publicity herald acts of charity. He used his own money for charity and didn't cheat anyone of theirs.
His standards were very high in demanding punctuality, integrity, discipline and dedication but his own life too, was a shining example of all this which was easy for his employees to follow.. Among the many legends related about him is one that ten percent of his vast income was used for contributions to all religions, while the rest went towards development of his empire of interests. His largesse to one and all was wide and varied and reached out to all parts of the country. This includes gifting paddy fields and houses to 100 poverty stricken farmers in Walapane, building several churches and temples, Hindu Kovils and Tamil schools in Jaffna. All these were built and endowed by him.
His philanthropy reached outside Sri Lanka too. The Great Ormond Street Hospital for Children in London, Brompton Hospital, Royal Free Hospital, Victoria Chest Hospital, the Hospital for accidents to Dock labourers, all benefited through his generosity. My father, while doing an internship at The Great Ormond Street hospital, was pleasantly surprised to see his grandfather's name on a plaque, stating his generosity.
When we look back in retrospect at Charles Hen- ry de Soysa's life, it is indeed astonishing that he was a man who transcended all barriers. He was not merely a philanthropist, not an entrepreneur but was something much nobler than all this. His foresight was remarkable which made him a phenomenon not only in his life time but beyond it too. He was undoubtedly one of the wonders of God, our creator. His greatest possession was his modesty, his greatest gift was philanthropy and his greatest occupancy was service to God and man. Sri Lanka badly needs men of this calibre today.
'The heights by great men reached and kept were not attained by sudden flight, But they, while their companions slept, were toiling upward in the night.'
Longfellow.