Lynne Wallis has devoted her career to teaching teachers. Currently the Artistic Director of the Royal Dance Academy (RAD), Lynne was in Sri Lanka last week to introduce the brand new Foundation and Intermediate dance courses offered by RAD. Represented in her class were some of Sri Lanka's best known ballet schools.
Among these are the three certified to submit the names of their students to the annual RAD exams - Deanna Jayasuriya (Deanna School of Dancing), Niloufer Peiris (Nelung Arts Centre) and Hannelore Imig-Jayasundara. For the women this is a chance not only to get up to date on the courses, but to network with other teachers and have any queries answered by someone who knows what the examiners who will visit in December are really looking for.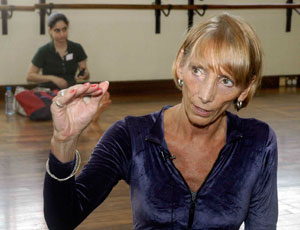 Lynne makes a point. Pix by Saman Kariyawasam
The changes to the RAD syllabus are intended to reflect the changes that Lynne and her team see in the real world. "Times have changed and demands are greater from the choreographers in the profession and our work needs to reflect that. And it also needs to reflect all the work that young people are engaging with these days and the directions in which dance is going," she says explaining that contemporary choreographers demand a wide range of skills from their dancers. When it comes to performance though, a solid foundation in ballet is hard to beat.
Ballet, she says, helps improve coordination and control, it teaches spatial awareness and use of performance space and it deals with dynamics of movements. It's also about learning how to select and interpret music and mastering performance skills – all of which are an asset to any dancer.
It's Lynne's first trip to Sri Lanka and she says she's glad of the opportunity her visit affords her to meet the teachers working here. "We educate and train teachers in the broadest sense of the word," she says, describing the classes as part theory and part practice. "These days teaching methods have to be different, we have to go beyond just telling students what to do. We have to engage with them and fire their imagination." Though the new syllabi offer plenty of room for innovative self expression, they're still about maintaining standards.
Lynne has the impeccable credentials required for the job. As part of making the job of teaching easier and creating a standard that could be applied internationally, Lynne chaired the Artistic Panel which created the texts The Foundations of Classical Ballet Technique and The Progressions of Classical Ballet Technique.
Speaking of the process, she says, "When I first joined the Royal Academy of Dance I was looking through books and documents and realised that there was nothing that really codified that academy's method." The text she helped create was intended to fill that void. Pulling together a team of dance professionals from different backgrounds, they drew up of list of movements that could be set to constitute basic ballet training. Written in the form of a class, the book was meant to guide both students and teachers.
Still, it's hard to replace an actual class. Most teachers work in isolation, and if nothing else, a RAD course like this serves as a chance to refresh. "No matter how long you've been teaching, no matter how experienced you are, you still need that, you need to refresh," says Lynne. For some students, though, the class is a stepping stone on the way to becoming professional teachers.
Wendy Perera is one of the students in the class and is a year away from becoming a qualified teacher. She tells me she's followed the RAD syllabus since she was five, and has now decided to pursue teaching more than part time. She'll be one of the very few to be so qualified in Sri Lanka, but having begun teaching already she can say with confidence that there are many local parents who would like their children to sit these British exams.
Wendy currently works with just over 40 children between the ages of 3 and 14 at the Lifestyle Gym every week. "The majority of parents do like it if there is some goal," she says, explaining that she personally believes that preparing for the exams helps the child make steady progress each year. Lynne agrees: "an examination gives a child or a student a standard to aspire to...and it gives them a chance to discipline and prepare themselves for a special day, and that's a life skill too. "
The Royal Academy of Dance is represented in Sri Lanka through the British Council; Ranmali Mirchandani, Manager Programme Delivery at British Council, is the RAD's National Administrator. Joining us, where we're seated on the floor of the studio, she explains that this class includes two RAD teachers and two senior students who've flown in to take advantage of Lynne's course – if they had missed this, they would have to fly to alternative centres like Singapore or Malaysia. This class also represents some of the best news Ranmali has had as RAD administrator in a long time – Wendy and Yashoda Soysa are now both is their last year of RAD's Certificate in Ballet Teaching Studies (CBTS) and soon both might be sending students to sit the annual RAD exams.
The new teachers have given her reason to be cautiously optimistic: "there's potential but some ambition on the part of young ballet students is needed, a willingness to invest their time and their money to study and open their own schools," she says, adding that the country suffers from the absence of a professional ballet company.
However, even if a student doesn't want to become a professional, the courses have their own value. As a child, Ranmali studied ballet for ten years, and now she and Lynne agree that the process imparts not just motor skills but crucial social skills as well. "There's a whole lifeskill, a whole discipline you learn that goes with it," says Lynne, adding that "I think dance is a wonderful way for them to express themselves."