"All things are impermanent, they are subjected to change, death and decay," the 80-year-old N. Gopinathan Pillai quotes the words of Lord Buddha. One of the oldest living Buddhists in the South Indian state of Kerala, Gopinathan laments the decline of followers of Buddhism in the state.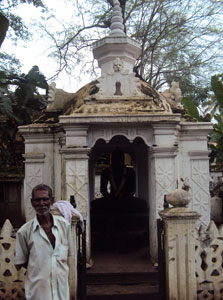 Gopinathan devoutly attends to daily rituals at this shrine that houses the oldest Buddhist statue in Kerala (seen in picture below)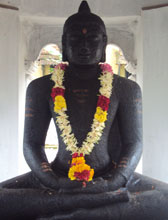 "I converted to Buddhism in the early 1950's after being enlightened by the words of Swami Pillai, a Buddhist preacher. Today people are unaware that Buddhism was once famous in South India," says Gopinathan from Mavelikara, a small town in Kerala.
Gopinathan is the only Buddhist in the area and daily offers flowers and lights lamps in the shrine that houses the largest and best preserved Buddha statue in Kerala.
The four-foot high statue, in the sitting posture dates back to the 9th century AD and has been declared a protected monument by the Department of Archaeology of Kerala.
"It is sad to think that this will be just another piece of history after my death. There will be no one to apply sandanam (sandalwood paste) as thilaka, put flower garlands around the statue and to light lamps at night," he says with tear-filled eyes. During his younger days, there were many Buddhists but some left Kerala and others converted to Hinduism.
According to the last census conducted in 2001, Kerala's population consists of 1,78, 83, 449 Hindus(56.2 percent of the total population), 78, 63,342 Muslims (24.7 percent), 60, 57,427 Christians (19.0 percent) and 2,027 Buddhists (0.1 percent).
The 3rd century BC saw the spread of Buddhism in South India and Sri Lanka during Emperor Asoka's rule, said Fr. Dr. K. M. George, historian and chairperson of the Federated Faculty for Research in Religion and Culture in Kerala.
Fr. George said; "Buddhism came as a saviour for thousands of low caste people who were sidelined in the then caste-conscious Brahminic society in Southern Indian states. As there was no caste system these people found their religion in Buddhist temples."
"The backwaters and paddyfields of Kerala are called 'Kuttanadu' in Malayalam, the main language in Kerala derived from the term 'Kuttan', a word used for Buddha and 'nadu', for land. Kerala can also be called the Land of Buddha," Fr. George said.