Last week Sri Lanka's only truly 'internationally acclaimed' singing star, performed to a gathering of those that yearned for "Another Jazz Evening with Yolande Bavan and Dinuk Wijeratne". This implicitly alludes to the splendid evening a year ago at the Hilton Colombo, where both of them performed to a rapturous welcome for Ms Bavan after many decades of her not having performed in her home country.
On this occasion, JC's Entertainment had booked her in for another fundraiser as was the case last time, supporting the Sunshine Charity Day Care Centre in Sambalthivu, Trincomalee as well as the Multiple Sclerosis Association of Lanka (MSAL). That Yolande continues to display such an amazing enthusiasm and unstinting support of such causes is outstandingly notable. Considering too that this involves travelling across time zones all the way to Sri Lanka from New York where she is domiciled, for the sake of just a single concert date!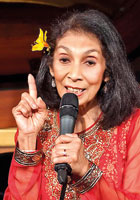 Yolande in concert: There was magic in the air
Yolande's bill-of-fare touched on all the familiar bases and some familiar places. Yet, there was a notable difference in the ambience and a telling impact that was achieved at this venue. The intimacy and proximity to art that is suggested within the confines of the Lionel Wendt theatre is supremely appealing as compared to a hotel ballroom.
The performers too seemed to be 'inspired' by the location, and therefore there was 'magic in the air'. It was certainly a homey-dahomey sort of approach that Yolande adopted with some really engaging, homespun patter delivered with disarming candor that, I know, touched some people to tears! She herself opined at some point in the proceedings, she is 'thankful she is Sri Lankan'. For all her international triumphs, she certainly presents herself as a confident Ceylonese would!
Maestro Duke Ellington was rather specific in his identifying singers when he introduced certain performers as "torch singers". Interestingly, this expression offers a distinction from Blues Singers, or even "Jazz Singers", and Yolande in her show this time, seemed to follow in this illustrious trajectory adopted at times by the likes of Mildred Bailey, Shirley Horn, Dinah Washington and the redoubtable Billie Holiday (who certainly has been an inspiration for her).
A particular medley of two Johnny Mandel songs bore witness to this phenomenon; "Where Do You Start?" [a collaboration with lyricists Alan and Marilyn Bergman] segued into "The Shadow of Your Smile" [lyric by Paul Francis Webster]. More than the tune, the Bergmans' lyric has all the pathos and drama of a feature film devoted to the subject of fractured romance and recrimination. Ms. Bavan accomplished this with heart wrenching power, and when she moved into "Shadow" it was as bittersweet in its cast but with the slightest emotional "lift" fitted craftily into the milieu, adopting a lilting latinesque approach in the tempo. This is what constitutes consummate artistry and it is rewarding to know that performers are still able to capture these subtleties in this raucous age.
It is almost superfluous to say that the evening was as musically satisfying because of the compelling support of Dinuk at the piano. His sensitive hands at the keyboard with just the most appropriately tasteful chords and inversions, subtle accents and rhythmic counter-pulses made the concert. He has what it takes, and for Sri Lankan audiences who have seen his artistic development over this past decade and a half, it was such a delight to hear his sheer mastery of the idiom as well as his unobtrusive brilliance. He treated us to an original, named "Hymn Peace" and he offered a spoken commentary of his rationale for calling it thus.
A fairly uncluttered melodic fragment in four phrases which began with an atmospheric manipulation of the strings of the grand piano which then moved into a pulse generated by the double-bass along with the drums entering a tad later. It had the invocatory nature of an opus one associates with the great pianist Randy Weston. However, Dinuk was definitely the creator of his own theme and departure, and what was particularly winsome was that he persuaded the audience, all together to hum the original theme toward the coda. This they did with remarkable prowess!
Dinuk was very ably supported by the New Zealand -born double bassist Patrick Bleakley and Colombo's own Christo Prins at the drums. There were some acoustic difficulties that one felt were occasionally intrusive in effectively capturing on microphone, the bloom and dynamic range of the bass, but in the overall, one could just as easily have not been bothered by it. One does remember the wonder the evening did provide!
Book Buzz wraps up BC Book Fair
The British Council's Book Fair 2011, featuring many leading booksellers selling both local and international books will be held on March 10, 11 and 12 at the British Council, Colombo from 9 a.m. to 7 p.m.
Wrapping up the Book Fair 2011 on Friday, March 11 at 6 p.m. will be a "Book Buzz" event featuring writers Premini Amerasinghe and Asgar Hussein, both short-listed for the Gratiaen Prize 2009.
Another interesting event for children is the interactive story telling session accompanied by a T- shirt painting activity on Saturday, March 12 at 10.45 a.m. This would be a great chance for the kids to take part and improve their listening and speaking skills whilst meeting new friends.
There will be special discounts on book purchases and discounts on Library membership for purchases over Rs.1500. Food & beverage stalls will also be set up.
Cooking up a gourmet feast with tea
By Smriti Daniel
The subtle flavours and gorgeous aromas of infused teas are inspiring a whole new trend in gourmet cooking. From the sophistication of Rose and French Vanilla tea to the happy blend that is the Lively Lime and Orange tea, Chefs are discovering that they can experiment with a palate that holds flavours other than the traditional plain and green teas. Chef Rohan Fernandopulle has been with Hilton International for 24 years, but says he's only begun experimenting with tea based recipes in the last 4 or 5.
| | |
| --- | --- |
| | |
| Peter Kuruvita | Fernandopulle |
Last week, at a Dilmah Tea Gastronomy Event with Chef Fernandopulle and celebrity chef Peter Kuruvita, guests were treated to a mouth watering spread of unusual delicacies. Included among them were savouries like the Moroccan mint green leaf tea spiced minced lamb and feta wrap and chicken mousseline with Earl Grey tea jus.
The dessert section boasted five dishes created for the evening, including a Cinnamon spiced tea infused Battenberg and a Lively Lime and Orange Brule. Chef Fernandopulle says that the Lively Lime and Orange tea is among his favourites, which is why he's used it very successfully in another dish – a perfumed prawn thermidor spring roll.
Describing the process of creating a new recipe, the Chef says he studies the different characteristics of each tea. When he first began, he had to find his own recipes, but working with Dilmah has been a learning experience. (Last year he was a participant in the Dilmah Chefs and Tea Maker Programme). "It's like a marriage," said the Chef, explaining that he had to be very careful with his use of tea to ensure the main ingredient was not overpowered.
Tea is rarely the main flavour, instead it is often used to add aroma, texture and even colour to the dish. It may be used to smoke a meat or added to a consommé. Chef Kuruvita, who was also present at the event, has even used it to batter fry prawns.
"The same amount of passion goes into tea as goes into food," Chef Kuruvita said, adding that he believed that the new infusions have really encouraged those working with tea to explore new flavours. On the menu that day, he said he particularly liked the Exceptional Berry Sensation tea and oyster shooter.
Here the traditional tomato juice had been substituted with the sweet tea, but both had a certain acidity that went well with the dish. It's a lovely tea to use with seafood, he explained. Having appeared on Australia's Master Chef, Chef Kuruvita says he has encouraged participants to cook with tea. It should never overpower the flavour of the main ingredient, which might make it more challenging to use tea in a meat dish as compared to a dessert. However, working with tea is only difficult if you don't think enough, he added wryly.
For those who would like to use tea to help enhance their presentation of food, he shares a simple trick originally developed by a Singaporean chef. Hardboil an egg, crack the shell and then allow it to sit in tea. When you do peel off the shell, the egg appears beautifully patterned.
When the flowers bloomed
By Vimukthinie Nonis
The arrangements were bold and stunning -Tres Chic, Graceful, Kandyan Dancer, Spring, Pink Splendour and others, done with fresh lilies, roses, anthuriums, orchids, carnations and many other flowers of different shades. This was the annual show of floral art by the Shi-en Ikebana and Floral Art Society on February 27 and 28 at Earls' Court-Cinnamon Lake-side.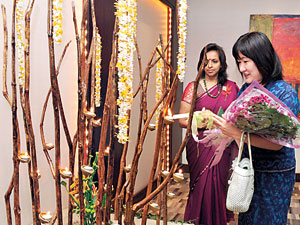 Madam Shimazaki lighting a novel oil lamp. Also in the picture is Ms. Shanthi Shanmuganathan, president of the society
This was the 18th annual exhibition held by their enthusiastic members - "the largest floral arrangement display in Sri- Lanka," said Shanthi Shanmuganathan, president of the Shi-En Ikebana and Floral Art Society.
Proceeds from the exhibition will go for a cause the society has long supported – thalassaemia patients; this time at the Karapitiya Hospital-children's unit.
Ikebana is perhaps the most well-known of all Japan's traditional arts and the exhibition titled 'Floral Elegance' displayed over 100 arrangements in two categories: the "Western Section" and the "Ikebana Section".
"In western flower arrangements one has to follow hues, contrast of colours, lines and at the same time the floral form (the Green Sponge) whilst in Ikebana we place the flower on a kenzan (pin holder) - one of the major reasons why Ikebana arrangements contain less flowers on display.
Ikebana also has a meaning--'Heaven', 'Man' and 'Earth' and many of the exhibits were arranged to highlight the particular meaning and then they go into free style," said Juanita de Alwis, Vice President of the society. Western flower arrangements were also displayed following the block arranging style which is common in Sri Lanka as well as elsewhere in the world. Ms de Alwis said there is also a trend towards fusion of both the Ikebana and Western styles of flower arranging.
Brides walk down the ramp in different styles
By Dhananjani Silva, Pix by J. Weerasekera
The ballroom of the Galadari Colombo opened its doors to a grand wedding fest on Tuesday night- a glittering event that is gathering momentum each year.
Capturing the creativity of local bridal designers, this gala, fairy tale like event backed by creative choreography gave a wonderful opportunity to grab a bulk of innovative ideas for those planning to wed in style. The models took the ramp in exotic bridal sarees and gowns with sparkling accessories embedded ; and the grooms in stylish wedding suits to present the work of some of the leading local bridal designers.
Presented by the Bride and Groom Magazine, the Designer Wedding Show - 2011 displayed the creations of Michael Wijeysuriya, Ramani Fernando, Ramzi Rahaman, Darshi Keerthisena & Thushara De Zoyza, Aslam Hussain, Premasiri Hewawasam, Sumudu Kumarasiri, Fouzul Hameed of Hameedias, Shalini Siriwardene, Indika Bandara, Pradeep Dharshana, Minoshan Wanasinghe, Dananjaya Bandara, Vasantha De Silva of Kess, KT Brown & Charith whose impressive styles were a mix of everything.
The bridal collection of Michael Wijeysuriya and Ramani Fernando on the theme of romance explored some stunning bridals (traditional and modern) in shades of white, silver and gold gleaming with stones and sequins while for Aslam Hussain and Ramani Fernando, 'ethnic elegance' seemed the preferred choice. Capturing the essence of a bygone era and harmonizing them with modern trends were Dharshi Keerthisena and Thushara De Zoyza who demonstrated a sophisticated 1940's Grace Kelly inspired wedding gown design together with traditionally inspired Kandyan brides. The collection also included glamorous Indian and homecoming designs.
Indika Bandara's beautifully choreographed bridal collection on themes; 'Sea song at the birth of queen of pearl' and 'fashion curves and rhythm flows', 'fur blends and spots' kept the audience spellbound as they witnessed an array of extraordinary bridal trends that predominantly blended pearls and fur.
Some of the other bridal presentations of the evening were inspired by latest trends in Kandyan, low country, Western and Indian bridal attire.
The bridal jewellery collection displayed by Vogue Jewellers and groom's attire segment by F.H Collection (Hameedia's) were some of the other highlights of the evening.
The designers were supported by Lucien De Silva, Country Bunches and Poru for bouquets, Wed in Style for décor, Vogue, Elly Creations and Colombo Jewellers for Jewellery, and Buddhi Batiks and Fabric Gallery for fabrics.