Peliyagoda Dayananda's maiden art exhibition opened to a packed house at the Lionel Wendt gallery on Friday night, the invitees from the diplomatic community, journalistic fraternity and others, eager to see the veteran cartoonist and illustrator's foray into paint.
Having worked in newspapers all through his career- from the Dawasa to the Divaina, Navaliya and Bindu from which publication he retired as Editor, Dayananda is now enjoying the freedom of drawing without the deadlines.
'Pe Daya', his exhibition is on at the Wendt today with over 50 of his works from oil paintings and acrylics, arranged to display his journey from the early days as a designer of headlines through to comic strips, cartoons and book illustrations- to paintings, a full flowering of his artistic talents.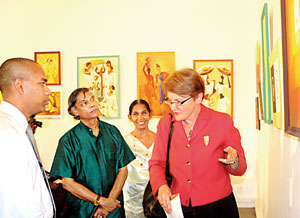 At the opening: Dayananda (centre) with American ambassador Patricia Butenis; and other guests. Pix by Nilan Maligaspe