In recent days, motorists have seen a lot of activity by workers on the Galle Road, from the Bambalapitiya to Kollupitiya stretch, where a major re-haul of the traffic flows is being planned. The centre islands are being removed and a five-lane highway is being developed, according to the Colombo Municipality, to improve the flow of traffic. Pedestrian crossings are being improved too, the public has been told.
At present, this stretch has traffic flowing towards Fort on two sides of the road separated by a centre island. This centre island is being removed to enable a single flow on five lanes from a current four lanes.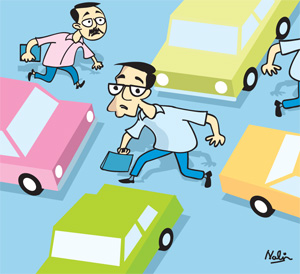 No-one would object to improvements being made to speed up traffic flows without any disruption or distraction. But is this the right approach or is it done at the whims and fancies of higher authority who travel on these roads with outriders and escort vehicles screaming at other motorists to 'get out of the way' while pedestrians running the risk of being run over? Do these people have a real (ground-level) sense of what is going on in terms of traffic flows plus the dilemma of pedestrians trying to cross these wide one-way city highways?
Try crossing the road at any point on Duplication Road (between Kollupitiya and Bambalapitiya) even at a pedestrian crossing? It's a nightmare. Occasionally there are police at these points during rush hours but the road is so wide that when one section of the traffic is stopped by a policeman standing at one end of the crossing, vehicles moving at high speed at the other end are unable to see the officer's outstretched hand. Accidents do happen at these points and more are waiting to happen!.
Try walking on the pedestrian crossing on the road at Havelock Park near the Laugfs Gas shed and the bus halt, and no motorist will give way. Another nightmare, and if you don't scurry across - turning right or left to make sure a vehicle doesn't hit you on either side (this road is a 2-way highway), - beware. Very soon an insurance company (these chaps are very innovative) will come up with a personal life policy to cover pedestrian-crossing accidents!!
There were two instances recently where VIPs with a security detail were caught up in traffic and couldn't get to their destination on time. Fury followed and subsequently the traffic flow was changed. Take for example – the old Vilasitha Nivasa junction at Havelock Town where one road leads to Nugegoda and the other to Pamankada-Borelesgamuwa. These roads (for those familiar with these locations) have been changed to a one-way flow for traffic from Pamankada bridge to the High Level road and again the Stratford Avenue road from Kirulapone bridge. In the evening, police allow (for a few minutes at a time) a one way flow of traffic from the Vilasitha Nivasa junction to Kirilapone bridge. Try crossing that road at that time or any time for that matter?
Are we a nation that changes the rules based on the gut reaction of VIPs and officials because it affects their ability to reach their destination at speed without disruption? Another problem with 5-6 lane highways is that Sri Lankan motorists are not accustomed to driving on lanes, diligently. Lanes are crossed, often edging others off the roads; overtaking (or is it undertaking because vehicles speed past you from inside) becomes law and encouraged by police to quicken the traffic flow; there are six lanes of traffic on a 4-lane highway unlike in the West where four lanes means specifically four lanes of traffic; such dis-organisation leads to chaos, anger, shouting and grumpy drivers… not forgetting accidents.
Most of these highways in Colombo are a motorist's nightmare and only the fittest (driver and vehicle) can survive because the basic rule of driving on a lane is observed in the breach.
With more vehicles being imported while the space for travel reduces, driving in Colombo or even walking in Colombo is getting more and more difficult. City and traffic planners need to re-consider the whole traffic plan for the capital and develop something that is beneficial equally to both motorists and pedestrians without any discrimination. Most importantly politicians and VIPs shouldn't be given preferential treatment.