Dialog Telekom, in one of the biggest funded sponsorships, is supporting the musical talent show – Tri- Armed Services Reality TV Talent Show - organized by the Ministry of Defence and telecast by state television. The prize money alone would run up to around Rs 20 million while the winner of the first prize would receive a Rs 10-million worth house.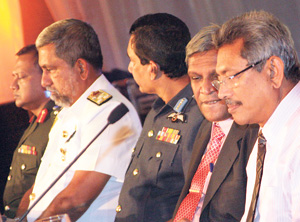 Defence Secretary Gotabaya Rajapaksa with service chiefs
The 'Ranaviru Real Star' show was unveiled by Gotabaya Rajapakse, Secretary, Ministry of Defence, in Colombo on Wednesday in Colombo. While participants for this Ranaviru Real Star talent show is restricted to members of the Army, Navy and Air Force, another force - members of the Police is conspicuously left out.
The selection would be out of 25,000 to 30,000 men and women in these three armed forces. Already around 12,073 applications have been received, out of which 500 will be selected and in this process the number would be brought down to 250 and then to 100.
The climax of the Show would be on May 28, 2011, the second anniversary of the winning of the war. The Programme would serve as a platform to highlight the musical talents of the soldiers.
Nushad Perera, Group Chief Marketing Officer, Dialog said that in this competition real stars would emerge that are different from stars. He said that these soldiers are not only heroes in war, but they also have hidden talents that the country should know of these other capabilities. He explained how the prize money would be distributed.
He said that there are over two million Sri Lankans in the 'Ranaviru family' and the Ranaviru Talent Show would bring them all together. He said the Show is a product of Dialog and it would be propelled to great heights in time to come.