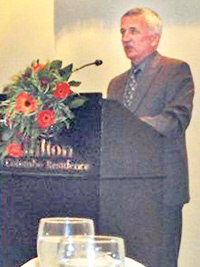 Bruce Levy
Canada is keen on doing business with Sri Lanka, Canadian High Commissioner in Colombo, Bruce Levy said in Colombo recently, pointing out that there are many opportunities to follow.
He was addressing a luncheon meeting organised by the Sri Lanka – Canada Business Council of the Ceylon Chamber of Commerce. Mr Levy said Canada welcomes foreign direct investment (FDI) and offers the kind of stability, low costs and taxes, a talented and diverse workforce, and world-leading research, innovation and transportation infrastructure that businesses need to innovate, grow and succeed in the global economy.
He said the Export Development Canada is open to consider new exposure under all of its programs adding that the Investment Cooperation Program, an important Canadian government program promotes and encourages responsible, sustainable Canadian private sector investments in developing countries.
Total trade between Canada and Sri Lanka stood at Canadian dollars $456 million in 2009 with Canadian imports at $115.7 million with nearly 50 % in woven and knitted apparels. Canadian exports were at $335 million.